[Post-Covid World] Shopping after the pandemic: To buy safer than now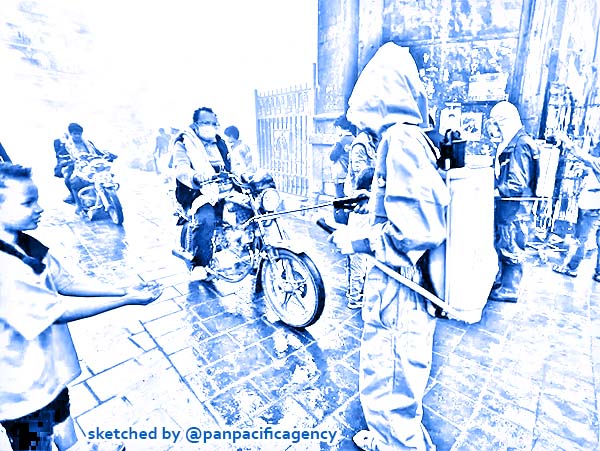 "Post-Covid World" is about inconspicuous changes that model the face of the future. These grains can be lost in a heap of terrible details about deaths and deprivations, which are formed the current picture of the day. We believe that very soon the time to put down the armor and take up the ordinary life will come. What things will be in demand in the world after the pandemic? What skills will be important to you to find your place? Previous notes of the series, "Sharp thorns of the New post-virus World", "Would the post-Covid humanity become more disjointed?" and "Consumers' behavior is changing globally due to the coronavirus", are available here.
In previous essay on the hard-to-see coronavirus' changes that work upon our lives, we promised to go along the "home–shop–home" route. For people in many countries under lockdown, the purchase of essential needs remains the only possible long walk that not associated with trouble. It's strangely how could governments regulate our movement along this previously offenceless route. But even more surprising are the figures from the April public opinion's study in the United States, showing that govts could lift bans – but some people couldn't change their behavior.
"If there were no government restrictions and people were able to decide for themselves about being out in public, how soon would you return to your normal day-to-day activities?" Gallup has asked adults in the US by web in April 20-26, 2020. 21% respondents said "right now", 36% – "after number of new cases in my state declines significantly", 31% – "after no new cases in my state". 12% said that their before-pandemic lifestyle will not returned "before vaccine developed". So, every tenth in the US is ready to restrict himself in a normal life, if the government doesn't do it, for an infinitely long time – an effective vaccine could be invented down the years, as you remember, and there is a possibility that it won't be invented at all, as Rob Picheta from CNN rightly says.
Majority of people in 12 out of 14 countries say they are going to be nervous about leaving their homes if businesses are allowed to reopen and travel resumes, an IPSOS survey conducted April 16-19, 2020, confirms. This nervousness is at highest level in India (78%), Japan (77%), China (72%), the U.K. and Mexico (71%) and Brazil and Canada (68%). Only in Germany majority of people are not going to be nervous (52%), while only 4 points separate those who agree and disagree in Italy. Other respondents more optimistic about leaving home are in Russia (37%), and France and Australia (32%).
Other interesting data related to the home-shop-home route is from Germany. This country is the first in Europe to announce that small retail stores (up to 800 sq. meters), closed on March 16, are allowed to re-open on April 20 (supermarkets with essential goods and pharmacies worked all the time of the lockdown, as everywhere). However, Fitch Solutions believes retail will be one of the Germany's most virus-affected sectors. "We now forecast real household spending for Germany in 2020 to contract by 1.6%, down from a pre-Covid-19 projection of 1.4% y-o-y growth. In 2019, real household spending in the country is estimated to have expanded by 1.5% y-o-y," Fitch Solutions concludes.
The reason for the fall is not that some stores were closed during restrictions. "We expect consumers to spend less on non-priority items, such as clothing and footwear and household goods, over the coming months, while household saving intentions will likely go up," Fitch Solutions experts warns. From analysis of retail data released from China, S. Korea and the UK during their restrictions: "consumers under lockdown prioritize food and drink and health spending over all other categories (e.g. household appliances, home spending)". "This to hold even for e-commerce shopping (where clothing and footwear items are traditionally purchased), due partly to the aforementioned "prioritizing" mindset amongst consumers," Fitch Solutions expects.
Chinese consumers show us what will happen after the pandemic, although this "after" is highly relative. In China, restrictions on movement and public activity were partially lifted, but people's fear remained, Karen Yeung writes in the South China Morning Post.
"Although containment measures have been lifted for most of the country, the fear factor seems to be outlasting the pandemic… Substantial part of people choose to stay at home when given the option, which shows that the fear of contracting the disease persists," Eugenia Victorino, the head of Asia strategy at private bank SEB, said.
The rising demand for essential goods have been change sellers' strategies globally.
In Singapore, shoppers have had difficulties with booking delivery slots from big supermarket chains. Smaller online grocery providers which source fresh produce, meats from farms or fine food items such as caviar and premium cheese, reacted quickly. They launched grocery delivery services and added lists of "essential" goods, such as instant noodles, toilet rolls and bottled water, to their online platform stocks, The Straits Times reported. In present situation, uncommon food delivery models, such as those offered by the WeBuy app, demonstrate the high growth. This app never sends deliveries to every single household, but only to designated "group leaders", who use their own flats as temporary storage space for groceries, and then neighbors can pick up these items. Maybe it's a good idea for a new startup in your country, right?
However, not every kind of goods one could buy quickly and cheaply online, and open air walking without risking a fine is also useful for immunity. Therefore, daily shopping trips persist even in the midst of the pandemic. They will remain in everyday life even after it, of course. To get the whole picture of reality that will meet us in any store in the nearest future, let's imagine a visit to the public place in 2021.
As we already said, no one knows what the Brave New World after the pandemic will look like. A high degree of uncertainty remains. Sharon Kirkey from National Post (Canada) recites by guesswork on what this "new normal" might look like: "Increased biometric surveillance? One-way sidewalks? Medical-grade face shields at the theatre? Virus-proof, sterilizable body suits to permit "socializing without distancing"? Robot cleaners and servers, immunity-booster consultants, cashless societies, nose swabs and temperature readings at every travel gate?"
Possibly, there is an exaggeration in description of the future. But Juliette Kayyem, former US Department of Homeland Security official, writes in The Atlantic: "We will get used to seeing temperature-screening stations at public venues. If America's testing capacity improves and results come back quickly, don't be surprised to see nose swabs at airports. Airlines may contemplate whether flights can be reserved for different groups of passengers—either high- or low-risk. Mass-transit systems will set new rules; don't be surprised if they mandate masks too." "We will choose our social events wisely. To lure you in, restaurants will mandate temperature screening and reduce the number of tables so that patrons don't feel crowded in. Servers will wear protective equipment; menus will be disposable. The maximum capacity of bars will be cut in half, if not even more," she added.
Fantasies on a "new normal" in restaurants and airports are entertaining, but pointless while they are closed. However, we can observe something new right now, and exactly in stores. People's desire to minimize skin-to-skin human touch and avoid touching communal surfaces will not disappear immediately after the pandemic was defeated, BBC Chris Stokel-Walker says.
Look at the concept of a 'driving throw supermarket' where you can shop without leaving your car. Istanbul-based engineering company Dahir Insaat creates this and many other futuristic models.
The video shows two key advantages of any way of shopping in the world after the coronavirus pandemic: minimizing contacts and automation.
Of course, the construction of such an object will be very expensive. We probably will not mind if our govts build such stores for us. But how many taxes will have to be taken from our pockets for such a dream? And how much are we willing to pay for our own security?
So far, 'driving throw supermarkets' have not appeared, we pull our hands in heavy bags in ordinary pre-pandemic stores near home or supermarkets. Although everything is organized a little differently now.
Social distancing has not yet gone anywhere. "The World Health Organization has had a longstanding recommendation that people should put at least one meter between them and someone with the symptoms of influenza," Benedict Brook from News.com.au recalls. True, it is hard to explain why stickers on the floor in supermarkets during this pandemic beg visitors in Singapore to stay 1 m apart, in Germany and Australia – 1.5 m, in the UK and New Zealand – 2 m. The United States, still using the imperial system of measures, stood out in this: the safe social distance prescribed by the US acts is 1.8 m, or 6 feet.
Now you go to a store keeping at a distance from others no matter how many meters you are prescribed to keep. Now you're separated not only with the length of one supermarket trolley, but with something more. Perhaps you're wearing a face mask, if it's compulsory xxin your country for public places. You came for food, and perhaps a drop of some joy juice. And of course, you don't touch cash if you are worried about your health. "People pay for essential goods and bills without having to leave the safety of their homes and touching banknotes and coins. With home deliveries giving people the option to minimize exposure to others, the handling of money is considered as a possible transmitter of viruses from one host to another," Arlo Custodio from The Manila Times writes.
Your purchases in the Post-Covid-19 world are for joy, because you are tired of fear and mistrust. But you are afraid and do not trust anyone while you are shopping. God dang it! Why then go to the store?
Of course, groceries will not die in this crisis: we must have the right to choose a fresh salad ourselves. Even the mankind's addiction to stock up on food during wars and disasters will not cancel modern people's need to buy something fresh – hardly anyone dreams of returning to that time when only corned beef was a meat stored for a long time, which means it was the only meat available to everyone.
Edwin Santiago from Stratbase ADR Institute think tank (Philippines) said absolutely right:
"There is nothing that communicates stability more than having food on the table. The logic is simple: if food supply is continuous, that means several other things continue going, such as production, distribution, consumption, employment, livelihood, etc."
Let's continue this talk on "what's the point of going anywhere" in respect of other social relations: work, education, friendship, relaxation and love in our next essay.
Keep reading us, bringing closer to yourself the wonderful "Post-Covid World".
Russian version of this article is available here.
Share it
Exclusive: Beyond the Covid-19 world's coverage