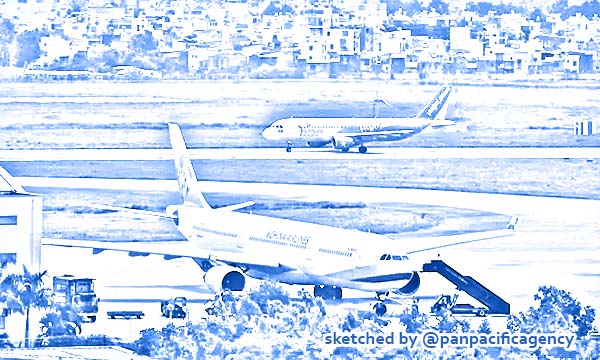 OAG, the world's leading provider of travel data and insight, released its Megahubs Index 2019. The analysis reveals the Top 50 most internationally connected airports in the world. Asia is home to 18 of the Top 50 Global and 11 of the Top 25 low-cost carriers Megahubs, reported the ANTARA. Asia Pacific is home to 35 of the Top 50 Global Megahubs, the Pan Pacific Agency added.
Singapore (SIN) continues to lead the Asia Pacific in international connectivity, ranking ninth globally for a second straight year (if you exclude from the Asia Pacific USA's Chicago, Atlanta and Canada's Toronto). Hong Kong ranks second regionally and jumps from 13th to 10th place in the global rankings due to a 1.5% increase in international connections.
Sixteen other Asia Pacific airports were featured as Top 50 Global Megahubs, with Incheon (ICN), Kuala Lumpur (KUL), Bangkok (BKK) and Jakarta (CGK) all ranking in the Top 20. Shanghai Pudong Airport (PVG) rounded out the top 25 and is the highest ranked airport in China.
Asia Pacific airports also had a strong presence in the low-cost carrier (LCC) category, with Kuala Lumpur (KUL) keeping its title as the most internationally connected LCC Megahub in the world. Air Asia is the dominant carrier with 41% of all flights. Other highly ranked LCC Megahubs include Manila (MNL), which jumped up two spots over last year to place second, India (DEL) and Thailand (DMK).
"The rise of self-connecting passengers and new world travellers creates greater demand for low-cost Megahubs – and Asian airports are at the center of this trend," said Mayur (Mac) Patel, Head of JAPAC for OAG.
According to the OAG's index, top 50 International Megahubs are those airports with the highest ratio of possible scheduled international connections to the number of destinations served by the airport. Online and interline connections are included and utilising the power of Connections Analyser, low-cost carriers (LCC) connections are also included, reported Pan Pacific Agency. Airports of the Asia Pacific, including America's countries bordered by the Pacific ocean, are highlighted in green.
Rank
Airport
Country
Connectivity

Index

Dominant Carrier
Share of flights at hub

1

LHR

United Kingdom

317

British Airways

51%

2

FRA

Germany

309

Lufthansa German Airlines

63%

3

Chicago O'Hare International Airport (ORD)

USA

290

United Airlines

46%

4

AMS

Netherlands

279

KLM-Royal Dutch Airlines

52%

5

MUC

Germany

259

Lufthansa German Airlines

59%

6

Lester B. Pearson International Airport, Toronto (YYZ)

Canada

251

Air Canada

59%

7

CDG

France

250

Air France

50%

8

Hartsfield Jackson Atlanta International Airport (ATL)

USA

247

Delta Air Lines

79%

9

Singapore Changi Airport (SIN)

Singapore

240

Singapore Airlines

24%

10

Chek Lap Kok International Airport, Hong Kong (HKG)

Hong Kong (sar) China

234

Cathay Pacific Airways

26%

11
Incheon International, Seoul (ICN)
Korea Republic of
233
Korean Air
23%
12
Kuala Lumpur International (KUL)
Malaysia
229
AirAsia
41%
13
Los Angeles International (LAX)
USA
219
American Airlines
22%

14

Suvarnabhumi, Bangkok (BKK)

Thailand

214

Thai Airways International

20%

15

Licenciado Benito Juarez International, Mexico City (MEX)

Mexico

191

Aeromexico

43%

16
Soekarno-Hatta International, Jakarta (CGK)
Indonesia
191
Garuda Indonesia
26%

17

IST

Turkey

187

Turkish Airlines

79%

18

John F Kennedy International, New York (JFK)

USA

186

Delta Air Lines

37%

19
Dallas Fort Worth International (DFW)
USA
185
American Airlines
85%

20

Miami International (MIA)

USA

184

American Airlines

75%

21

George Bush Intercontinental Houston (IAH)

USA

179

United Airlines

81%

22
Tokyo Haneda International (HND)
Japan
178
All Nippon Airways
37%
23
Newark Liberty International (EWR)
USA
169
United Airlines
70%

24

DXB

United Arab Emirates

168

Emirates

49%

25
Shanghai Pudong International (PVG)
China
163
China Eastern Airlines
28%
26
Sydney Kingsford Smith International (SYD)
Australia
158
Qantas Airways
36%
27
Vancouver International (YVR)
Canada
155
Air Canada
47%

28

MAD

Spain

154

Iberia

46%

29

Ninoy Aquino International, Manila (MNL)

Philippines

153

Cebu Pacific Air

32%

30
Sheremetyevo International, Moscow (SVO)
Russian Federation
150
Aeroflot Russian Airlines
80%
31
San Francisco International (SFO)
USA
146
United Airlines
49%
32
El Dorado International, Bogota (BOG)
Colombia
142
Avianca
58%
33
Guangzhou Baiyun International (CAN)
China
142
China Southern Airlines
49%

34

FCO

Italy

139

Alitalia – Societa Aerea Italiana S.p.A

43%

35
Indira Gandhi International, New Delhi (DEL)
India
137
IndiGo
32%
36
Beijing Capital International (PEK)
China
137
Air China
40%
37
Seattle Tacoma International (SEA)
USA
133
Alaska Airlines
50%

38

JNB

South Africa

128

South African Airways

44%

39
Narita International, Tokyo (NRT)
Japan
128
All Nippon Airways
17%

40

ZRH

Switzerland

114

SWISS

54%

41
Montreal / Pierre Elliott Trudeau International (YUL)
Canada
112
Air Canada
58%

42

VIE

Austria

109

Austrian Airlines AG dba Austrian

50%

43
Tan Son Nhat International, Ho Chi Minh City (SGN)
Viet Nam
108
Vietnam Airlines
37%

44

General Edward Lawrence Logan International, Boston (BOS)

USA

107

JetBlue Airways Corporation

27%

45

BCN

Spain

102

Vueling Airlines

42%

46

GRU

Brazil

101

LATAM Airlines Group

41%

47

Auckland International (AKL)

New Zealand

99

Air New Zealand

65%

48

OSL

Norway

98

SAS Scandinavian Airlines

37%

49
Don Mueang International, Bangkok (DMK)
Thailand
98
Thai AirAsia
45%
50
Chhatrapati Shivaji International, Mumbai (BOM)
India
97
IndiGo
32%
Russian version of this article is available here.
Share it
Exclusive: Beyond the Covid-19 world's coverage