Lao PM visits farms, industries to boost local suppliers, production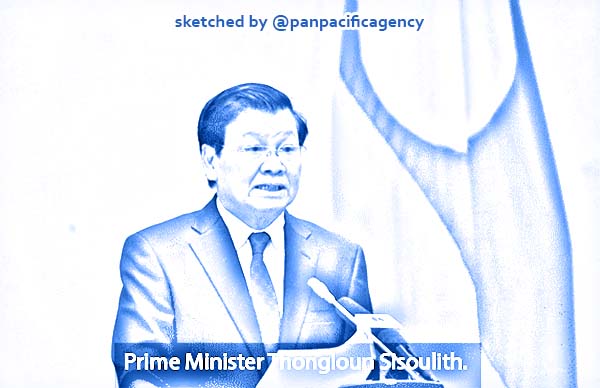 VIENTIANE, Jul 10, 2020, Vientiane Times. The Prime Minister Thongloun Sisoulith on Thursday visited an organic vegetable production group and processing industries in Xaythany district, Vientiane, Vientiane Times reported.
Xaythany, one of nine districts of Vientiane, the capital city of Laos, is a zone where there is a significant production base to supply produce and industrial products for both domestic and overseas markets. This is a springboard for the economy and creates employment for local people. Several economic zones have been established there.
The PM's visit was accompanied by the Vientiane mayor, ministers of Agriculture and Forestry, Energy and Mines, Industry and Commerce, along with the executive board of the Lao National Chamber of Commerce and Industry.
The first trip was to the organic production group in Thongmang village. The delegation met local farmers and heard some of their problems regarding possible expansion.
Then Mr Thongloun was welcomed by the executive board of Lao Coca-Cola company on his visit, followed by a call on CP Lao animal feed factory. Both companies are important manufacturers and suppliers of drinks and foodstuff for domestic consumption in Vientiane.
After finishing his mission at the CP Lao animal feed plant, the prime minister's delegation travelled to view pipe production of Toyo Industry Lao Factory Sole Company Limited under the management of Xaignavong Group.
Mr Thongloun and his delegation were welcomed by the president and co-founder of the Xaignavong Group, Mr Langkone Xaignavong and Mrs Dalakham Xaignavong, who is also the group co-founder and General Director of Toyo Industry Lao Factory Sole Company Limited.
Toyo Industry Lao Factory Sole is a leading standard pipe producer and supplier in Laos. It manufactures various types of pipes to be used for water supply, electrical and telecommunication work.
Mr Langkone led the guests on the tour of his factory that is located on 13 South Route, Phokham village, Xaythany district.
He explained the production processes, including some techniques for using technology to connect pipes together.
The President and Co-founder of the Xaignavong Group told media on July 7 that on behalf of company executive board, staff and family, he was happy to receive the prime minister, minsters and guests to Toyo Industry Lao Factory Sole and also thanked authorities involved for supporting his business.
At the same time, he urged projects such as water supply, electrical engineering, and mining to use pipes produced in the country to boost the economy, reduce the out flow of foreign currency and help manage inflation.
TOYO brand products made by Toyo Industry Lao Factory Sole are of superior quality and are available at competitive prices. The company has a fully equipped laboratory and every product passes through quality control.
Their clients include water supply projects and ADB, KOICA, JICA and UNICEF. They usually visit the factory to check quality tests.
The TOYO brand has been certified by the national standards authority and has met international quality controls, such as ISO 9001:2015 from Transpacific Certifications Limited (TCL) of Australia.
Some problems being faced at the moment include the import of raw materials because of Covid-19 control measures. Most of the materials are imported from the UAE, Singapore, Thailand, the Republic of Korea, Indonesia and China.
Share it
Exclusive: Beyond the Covid-19 world's coverage