Coronavirus pandemic hits all 10 ASEAN members as Laos confirms first 2 cases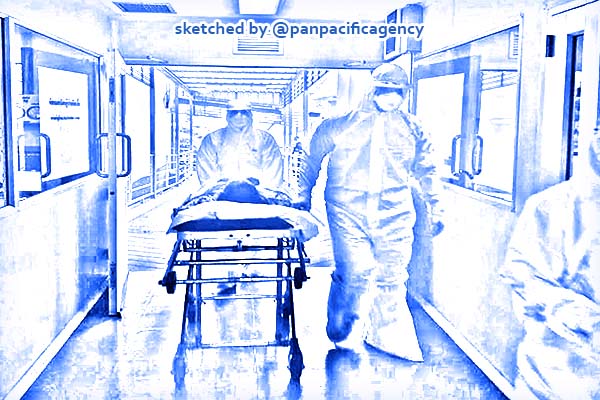 BANGKOK< Mar 24, 2020, Kyodo, The Laotian Times. Laos on Tuesday confirmed its first two cases of the new coronavirus, meaning the pandemic has now spread to all 10 members of the Association of Southeast Asian Nations, The Mainichi reported.
Deputy Health Minister Phouthone Meuangpak was quoted by local media as saying the two cases, both in the capital Vientiane.
The first confirmed patient had traveled to Thailand from March 5 to 8, attending a seminar in Bangkok. He returned to Laos on March 9 via Vientiane's Wattay International Airport, The Laotian Times reported.
By March 23 he began to feel ill, exhibiting symptoms consistent with Covid-19, such as headaches, body aches, a sore throat and shortness of breath. He was admitted to the Mittaphab "150 Bed" Friendship Hospital in Vientiane, where he was quarantined and tested positive for the virus.
The second confirmed patient began to exhibit symptoms on 10 March and was taken to the same hospital for testing. A blood test and chest x-ray was conducted but did not find anything abnormal, and so the patient returned to a hotel to rest.
After symptoms worsened, the patient was again brought to the Mittaphab "150 Bed" Friendship Hospital and tested positive for Covid-19.
Both patients are now receiving treatment in quarantine at Mittaphab hospital where the condition of both has been described as stable.
Efforts are being made to trace their movements and locate persons with whom they may have had close contact.
"Lao health authorities are being assisted by WHO experts as well as coordinating closely with our counterparts in China, who have first-hand experience in defending against Covid-19 and treating infections," says Vice Minister Phouthone.
In recent days, Laos has seen the return of thousands of Lao migrant workers from Thailand where authorities have ordered a temporary shutdown of some workplaces, leaving many of them jobless.
Many Lao also hastily returned home for the upcoming Lao New Year, scheduled for mid-April, before border checkpoints were closed Monday to prevent the spread of the coronavirus.
Thailand, with which Laos shares a 1,200-kilometer border, reported 106 more infection cases Tuesday, bringing the total to 827.
Among Laos' other neighbors, China has 81,171 confirmed cases, Vietnam has at least 123 and Cambodia 87. The landlocked country also borders Myanmar, which reported its first two cases on Monday.
Besides Laos, Thailand, Vietnam, Cambodia and Myanmar, ASEAN includes Brunei, Indonesia, Malaysia, the Philippines and Singapore.
Among ASEAN members, Malaysia is by far the worst hit, with a total 1,624 cases as of noon Tuesday.
Share it
Exclusive: Beyond the Covid-19 world's coverage