Singapore NGOs call for rethink of migrant workers' salaries, health care and recruitment fees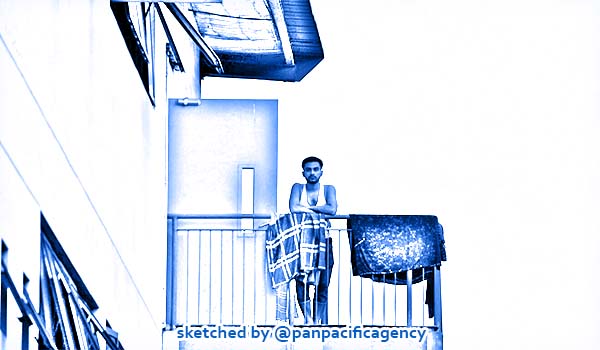 SINGAPORE, May 31, 2020, SCMP. Twelve years ago, when Dhaka-born Aarul completed his secondary school education and was about to join the Bangladesh Army, a family friend introduced him to a recruitment agent in Singapore. The agent promised the 18-year-old an administrative job in the city state, and a S$850 (US$602) monthly salary that was 10 times what he would earn as a soldier, South China Morning Post reported.
But there was a catch. Aarul would have to shell out S$8,000 for his flights, an approval letter from Singapore's Manpower Ministry and fees to both the agent and the family friend who recommended him.
Aarul's father, a retired police officer, emptied his savings to raise the cash.
But when his son arrived in Singapore with four other Bangladeshis, they were shocked to discover they would be working on a construction site run by a Chinese-owned company.
Their basic salary was half what the agent had promised and their new employer did not provide a contract detailing their responsibilities or rights, including their right to health care.
"I cried after my first day of work and wanted to go home, but it was too late," said Aarul, who did not want his real name published, citing privacy concerns. "The others were in even more trouble, because they borrowed from banks and moneylenders and must pay back with interest."
Since the coronavirus outbreak in Singapore began to balloon in mid-April, attention has been focused on the congested mega-dormitories housing the bulk of its 320,000 migrant workers. As of Friday, more than 90 per cent of the city state's 33,860 confirmed cases came from among these workers. Tackling the outbreak within the dormitories may understandably be the government's top priority, but there are bigger challenges facing migrant workers that existed well before the pandemic.
Workers interviewed for this article said they were more concerned about exorbitant recruitment fees, low wages and poor access to health care than their cramped living conditions – all issues that migrant worker NGOs have previously flagged. While these issues also affect migrant workers elsewhere, expectations are higher that Singapore, a developed and affluent country, would do more for this group.
"For a lot of people, the main takeaway from the pandemic will be that Singapore needs to improve the condition of worker dormitories," said Debbie Fordyce, president of Transient Workers Count Too (TWC2). "But this distracts from more endemic issues such as illegal recruitment fees, non-payment of salaries and a system that often treats workers as liabilities once they're ill or injured."
Over the past decade, Singapore's demand for cheap foreign labour has fuelled the growth of an exploitative recruitment system. While the government mandates that employers of foreign workers must use licensed employment agencies and has set caps on fees they can collect, there continues to be a network of unlicensed middlemen who take kickbacks for recommending workers for jobs.
One 25-year-old construction worker from Tamil Nadu, India, said he had to borrow money from a private moneylender to pay S$3,300 to "a friend's supervisor".
With his monthly salary of S$600 – including overtime – it took him two years to repay the debt, after deducting expenses, and he said he was frequently hounded about it.
"Moneylenders won't care how low your salary is," he said. "My guy chased me every month, every week, 'Where's my money? Where's my money?' It was very stressful."
This debt problem not only applies to first-time hires, either. If a foreign worker wants to change employers another referral fee – usually S$2,000 to S$3,000, according to NGOs – has to be paid.
The Manpower Ministry has maintained it cannot police rogue recruiters operating in source countries and instead shares information on such malpractices with foreign embassies. But NGOs want more to be done on home soil.
Desiree Leong, a case worker for the Humanitarian Organisation for Migration Economics (HOME), said the cap on fees payable to licensed recruitment firms in Singapore should be reversed to the previous 10 per cent of a worker's monthly salary. This rule was changed in 2011 to allow for a maximum of two months' salary per year of service, with recruiters told to itemise the costs of services rendered.
"There must be greater enforcement to deter excesses, rather than requiring victimised workers to prove their complaints," Leong said, adding that "if the government does not step up, private stakeholders won't address this market failure and root out the problem of debt in the migrant labour market."
The government withdrew public health care subsidies for foreigners in 2008, to shift the burden of providing for low-income foreign workers away from taxpayers to employers. Since then, companies have had to provide two types of health insurance for foreign workers: one that covers inpatient fees of up to S$15,000 per year, and another that covers a minimum of S$36,000 per year for treatment of work-related injuries. They are also supposed to bear the costs of outpatient care.
But a study published in the Singapore Medical Journal last year showed that 73 per cent of doctors who treated migrant workers had encountered at least one instance in which the worker's care was compromised. Of these, 40 per cent had patients who discharged themselves from hospital against medical advice or did not receive operations that were deemed necessary.
There have also been instances of employers asking workers to stump up for co-payments that are greater than the percentage allowed under the Employment of Foreign Manpower Act.
Michael Cheah, executive director of Healthserve, an NGO that focuses on migrant-worker health care, said it was still common for many employers to play down the toll that hard labour takes on workers' health, or to accuse workers of slacking off by feigning illness.
"This kind of mindset, combined with workers' deep fear of losing their job and being repatriated, often leads to sick or injured workers not wanting to see a doctor," he said. "They continue working with illness or injuries which, if not treated, worsens and affects their ability to continue working safely in the longer run."
Workers who do try to seek treatment may struggle with communication issues, a problem common to Bengali speakers. More significantly, they may face aggression from hostile employers keen to keep the number of recorded casualties low.
Cheah said smaller labour suppliers may also be unwilling to pay for workers' medical care if the injury was sustained while they were subcontracted to other firms' worksites.
Abdul Barek, a construction worker who first came to Singapore in 2006, developed kidney stones caused by dehydration in 2011. With financial help from Healthserve, his company paid for a round of treatment. But when the condition flared up again in 2019, his new employer – which owed outstanding salaries to several workers even before the coronavirus crisis – said it was unable to pay for his treatment.
"In the end, TWC2 paid for my operation to remove kidney stones and put stents in my urethra," said Barek, 44, whose wife and two teenage children remain in Chatkhil, Bangladesh. "My doctor said that without the operation, I could have died. And then who would take care of my family?"
The workers interviewed told This Week In Asia they each earned basic monthly salaries of S$600 or less.
Mridul Mandal, a shipyard worker from Palash, Bangladesh, has seen his basic monthly pay increase from S$450 to just S$485 over the four years since he arrived.
"My pay is just enough to support my family, but I can't save any money for my future," he said.
From Tuesday, Singapore is set to lift its partial lockdown – in place since April 7 – and take the first steps towards reopening its economy, including reviving the construction sector that is predicted by Fitch Solutions to suffer a 10.3 per cent slump this year.
NGOs say there must be a rethink of the pitiful wages foreign workers earn for building the nation's parks, shopping centres, public transport system and high-rise homes.
"Anyone working with migrant workers would be hard-pressed to say they're not in favour of minimum wages, coupled with provisions on electronic payment that the government recently announced," said Dipa Swaminathan, founder of the migrant-worker NGO It's Raining Raincoats.
A quarter of Singapore's low-wage migrant workers still receive their salaries in cash rather than electronically, and the Manpower Ministry revealed in 2018 that 89 per cent of salary disputes involved cash-payment employers.
The government mandated last month that workers living in dormitories be paid electronically after they were confined there to keep the outbreak from spreading.
Both HOME's executive director Catherine James and Fordyce of TWC2 are in favour not only of instituting electronic payment for all migrant workers; they also propose giving them a minimum wage of S$1,000 to make up for various salary deductions.
"Given that it's legal for companies to deduct up to 25 per cent from a worker's back salary, and that workers must pay thousands for work-permit extensions and up to 50 per cent of medical fees for non-workplace injuries, I would say S$1,000 is a reasonable sum, but only if recruitment fees are also eliminated and job mobility made easier," Fordyce said.
Singapore does not have a minimum wage for either local or foreign workers.
Economist Linda Lim said she believed a better way to raise migrant workers' wages was to reduce Singapore's dependence on foreign labour, instead of imposing a minimum wage.
"The government has tried to reduce reliance on foreign labour through the foreign worker levy, but this has obviously not worked," she said. "It may have to consider what other developed countries do, which is to impose quotas on migrant labour, forcing firms to bid for limited slots, which will incentivise a productivity increase. Wages of local workers will rise in tandem."
This notion has proven unpopular with business groups and trade associations, which last week issued statements describing how reducing the migrant workforce would erode Singapore's competitiveness across industries, from manufacturing to marine and construction.
But James of HOME said the city state cannot go back to business as usual without re-evaluating attitudes and policies that discriminate against migrant workers.
"Given the evident gaps between policy and practice, the state cannot leave it only to employers to ensure the well-being of workers. More regulatory and enforcement oversight is needed," she said.
Share it
Exclusive: Beyond the Covid-19 world's coverage