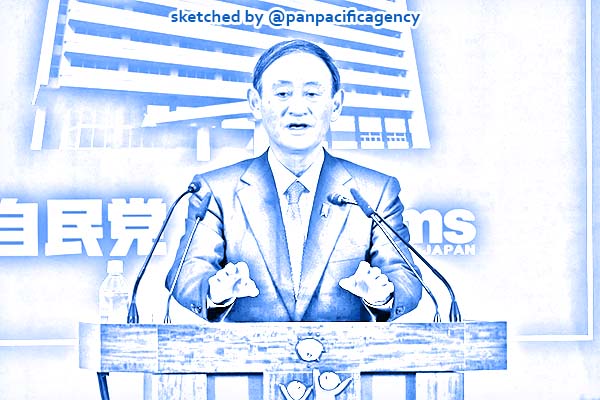 The most salient part of Japanese Prime Minister Yoshihide Suga's administration will be continuing the legacies of his predecessor Shinzo Abe. It is widely expected that Suga, who was the reliable right-hand man of Japan's longest-serving prime minister, will try to complete Abe's work on structural reforms and raising the country's international influence. Yoshikazu Kato specially for the South China Morning Post.
One of Abe's contributions to Japan and the region was building a good personal relationship with US President Donald Trump while improving the political relationship, economic ties and people-to-people exchanges with China. In this new era of US-China strategic rivalry, the most critical diplomatic challenge for Japan continues to be how to manage its relationship with the two major powers.
Suga has already launched his diplomatic agenda. He has made phone calls to Trump and Chinese President Xi Jinping, reassuring the former of the importance of the security alliance and the latter of the necessity of stabilising their relationship as neighbours.
One bit of good news is Suga has popular support, which is indispensable for implementing consistent diplomacy. According to an Asahi survey conducted on September 16 and 17, Suga's new cabinet had an approval rating of 65 per cent, even higher than the 59 per cent enjoyed by Abe's cabinet when he started his second stint as prime minister in December 2012.
Japan's relationships with the United States and China are of a different nature. It is unrealistic for Japan to be neutral between the two major powers while tackling geopolitical risks in the Asia-Pacific.
Suga's early priority is to maintain a good relationship with Trump. In the last few years, the US-Japan alliance has depended on a good rapport between Trump and Abe. One uncertainty now is over what will happen to the alliance and the region if Suga cannot maintain a positive relationship with Trump should he win November's election.
Suga visited the US in May 2019 and met Vice-President Mike Pence and Secretary of State Mike Pompeo, establishing a working relationship with the Trump administration. Given this, it is unlikely Suga will dramatically worsen the relationship with Trump. If relations with the US deteriorate, though, Washington might ask Tokyo to take on greater responsibilities within the alliance, such as paying more of the cost of keeping US troops in Japan.
If Trump wins a second term, he might behave more unilaterally in Abe's absence. Trump trusted Abe and sought his opinions on regional and global issues such as relations with China, the World Trade Organisation reforms and North Korea. Trump has lost a reliable friend in Abe and, as a result, might become more inward-looking.
This would create more uncertainty for Japan's foreign policy, including in its relations with China. A credible and accountable US has always been the most strategic asset for Japan in the face of China's rise.
Given the uncertainty with Trump, Suga might welcome a Joe Biden victory as Biden's diplomatic choices could better fit with Japan's national interests. The thinking in Tokyo policy circles is that Biden's diplomatic priority will be consolidating regional and global alliances while making a point of human rights, rule- and values-based multilateralism and the integrity of liberal democracies.
If Biden wins, Japan could bring the US back into the Trans-Pacific Partnership. Other joint efforts could include pushing the Indo-Pacific strategy with India, Australia and perhaps other Southeast Asian nations as well as responding via consensus- and coordination-oriented approaches to China's internally repressive and externally assertive policies over Hong Kong, Taiwan, Xinjiang, and the East and South China seas.
While Suga is willing to promote relations with China – especially economic ties and business cooperation – he is not necessarily "pro-China". Suga, like Abe before him, will respond to China's actions within certain principles.
Japan will require the Communist Party to preserve the "one country, two systems" framework and Hong Kong's high degree of autonomy, as well as refrain from sending official vessels around the Senkaku Islands, which China calls Diaoyu. These conditions will help Suga judge whether to welcome Xi on a state visit to Japan in the future.
In addition to economic ties, North Korea is also a motivation for Suga to improve Japan-China relations. Senior officials close to Suga have suggested the new prime minister, like Abe, sees the resolution of North Korea's past abduction of Japanese nationals as perhaps his biggest potential political legacy, but he needs Xi's help to negotiate with Kim Jong-un.
Japan would not welcome a confrontation, particularly a military one, between its strategic ally and its biggest economic partner. However, Japan has accepted that the US-China strategic rivalry exists and will continue to do so for at least the next 30 years.
Japanese who have worked in China studies or international relations are aware the so-called engagement policy is not going to make China a more liberal or democratic country. To think such a policy could change a Chinese culture and civilisation that has existed for thousands of years is purely an illusion. Japanese officials and intellectuals have tried to get this message across to their US counterparts for decades but have never been taken seriously.
This could be another of Abe's achievements in his relationship with Trump – he finally convinced the US to accept this reality. The US-China strategic rivalry is structurally inevitable based on fundamental differences of ideology and political systems. If that is the case, it is better to face reality than embrace an illusion, and Suga will be determined to choose the former.
Yoshikazu Kato is adjunct associate professor at Asia Global Institute, University of Hong Kong. He is the author of "How Will China Democratize?" and "Patriotic Slaves", among other works
Share it
Exclusive: Beyond the Covid-19 world's coverage