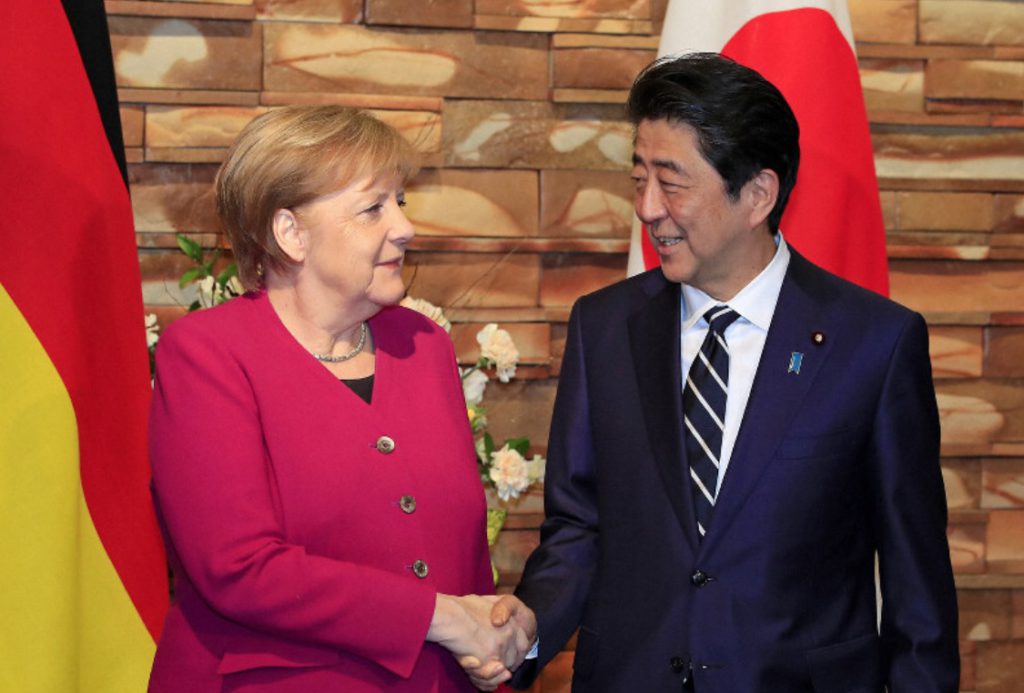 TOKYO, Feb 4, 2019, The Mainichi. Japanese Prime Minister Shinzo Abe and German Chancellor Angela Merkel on Monday championed free trade amid protectionist and anti-globalization sentiments, reported The Mainichi.
"As a protectionism trend has spread in the world and Britain is heading for its exit from the European Union, the role played by Japan and Germany has become more and more important," Abe said as they met at the prime minister's office in Tokyo
Merkel said a free trade agreement between Japan and the European Union, covering about a third of the world's economy which entered into force on Friday, will "send an important signal to the world."
Britain's exit from the 28-member European Union, of which Germany is a leading member, was one of the main topics of their talks.
The shape of Brexit remains unclear, with Britain's House of Commons voting late last month to reopen negotiations with the regional bloc over the departure deal, under which the country is scheduled to leave the bloc on March 29.
Tokyo maintains that a no-deal divorce should be avoided as it would have a negative impact on the global economy, in particular Japanese companies operating in Britain, Japanese officials said.
As part of efforts to expand bilateral security cooperation, Abe and Merkel will likely broadly agree on a pact on the handling of classified information to facilitate the exchange of tip-offs, including in the field of terrorism.
Japan has so far struck similar deals with Australia, Britain, France, India, Italy, South Korea, the United States and the North Atlantic Treaty Organization.
Abe and Merkel are expected to exchange views over regional challenges, including nuclear-armed North Korea.
The leaders of the world's third- and fourth-largest economies will also likely agree to work together to promote self-driving and other cutting-edge technologies.
They are expected to confirm their cooperation for the success of a Group of 20 summit in late June in the western Japan city of Osaka, which Abe will chair and Merkel is likely to take part in.
On Tuesday, the German chancellor is scheduled to have an audience with Emperor Akihito, who will abdicate on April 30, and Crown Prince Naruhito, who will succeed him on May 1, before leaving Tokyo in the afternoon.
Share it
Exclusive: Beyond the Covid-19 world's coverage