Bangladesh election: two killed as polling takes place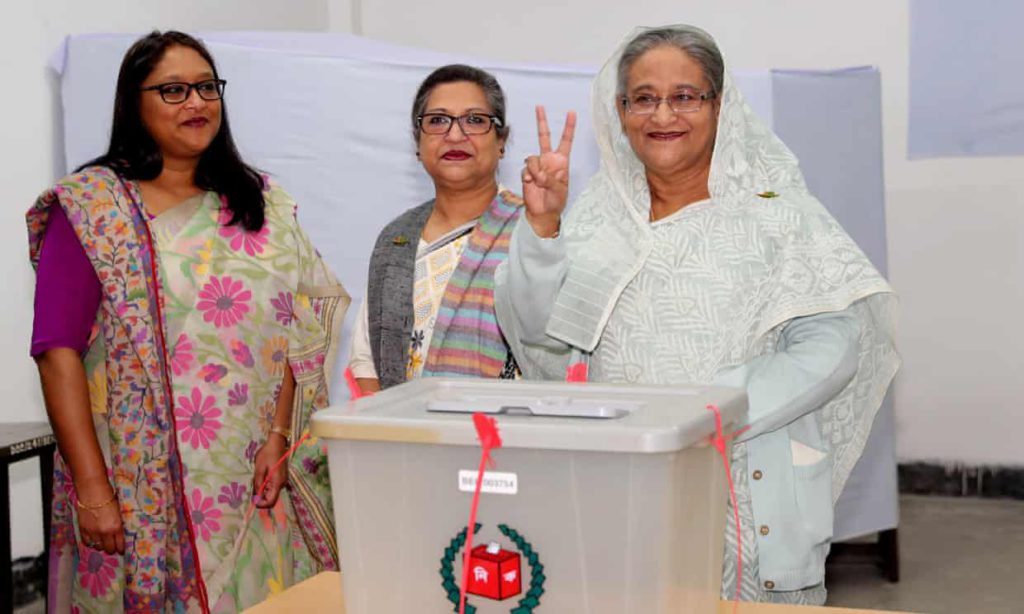 DHAKA, Dec 30, 2018, Guardian. Two people have been killed in election violence as Bangladeshis cast their votes on Sunday in the country's first contested national polls in a decade, reported The Guardian.
The deaths, one at the hands of police who claimed to be stopping an attack on a polling station, are the latest in a campaign marred by violence and the mass arrest of opposition leaders and activists.
More than 100m voters will deliver a verdict on the decade-long rule of Sheikh Hasina, the daughter of the country's foremost independence leader, who has overseen record economic growth but undermined the country's democratic institutions.
Authorities in the country have shut down 3G and 4G services to counter what they called "propaganda", but opposition activists say the measure will also prevent them reporting any irregularities in voting.
The ruling Awami League said a party activist had died after suffering head injuries during a clash with supporters of the major opposition Bangladesh Nationalist party (BNP). "He died on the way to hospital," local police chief Najibul Islam told Agence France-Presse.
Another man died when police opened fire on opposition activists who they say had attacked a polling station in the southern town of Bashkhali. "One person was killed from bullet wounds. We fired in self-defence," local police chief Mohammad Kamal Hossain said.
The deaths brought the number of people confirmed by police to have died due to election-related violence to eight.
The BNP alleged police arrested several of its scrutineers on Saturday and that others were left afraid to attend polling stations to monitor voting. Government party MPs outnumbered those from the opposition at three polling station in the capital, Dhaka, attended by the Guardian on Sunday morning and the atmosphere was calm.
Opposition groups say the campaign leading up to Sunday has been the most repressed in the country's 47-year history, claiming that more than 8,200 people opposed to Hasina have been arrested, and more than 12,000 injured in addition to the eight it says were killed.
At least six of its members or supporters have been killed during the seven-week campaign, the Awami League said.
The BNP says it was prevented from holding a final campaign event in the capital, where thousands of Awami League supporters rallied on Friday.
Polls close at 4pm local time and the result is expected to be known later in the day, with an opinion poll showing Hasina comfortably ahead.
Hasina, 71, is already the longest-serving prime minister in the country's history. A credible win would indicate voters are willing to tolerate the erosion of public institutions and their civil rights in exchange for relative political stability and economic growth that has led to a tripling in the country's annual GDP.
A former exile who had most of her family gunned down in a military coup in 1974, Hasina has argued human rights are a peripheral concern to most Bangladeshis and that rural people in particular are more concerned with food and jobs, which she says her government has delivered.
"Democracy and development [have been] made to appear mutually exclusive, with the ruling party members and MPs going to the extent of rooting for development at the cost of democracy," said Shahedul Anam Khan, a retired brigadier general and opinion columnist.
Hasina's son Sajeeb Wazed, who is seen as her possible successor, told Reuters on Saturday his mother believed that being "branded authoritarian by the western media now is a badge of honour".
"Don't you see anti-government posts on Facebook?" he said. "You are free to write whatever you want but you are not free to hurt someone. If you write something false and that causes an attack on someone, should there be no consequences?"
The new US ambassador to Bangladesh, Earl Miller, issued a statement this week saying he was concerned at the attacks perpetrated against all parties. "However, it appears opposition party candidates have borne the brunt of most violence," he added.
Despite the healthy topline numbers, analysts say inequality has widened and labour surveys show 35% of people aged between 20 and 29 are not working or studying. The Centre for Policy Dialogue, a thinktank, has argued corruption during Hasina's term has cost the country more than $2.5bn.
Opposition groups have formed an alliance headed by lawyer Kamal Hossain, 82, an Oxford-educated lawyer who helped write the constitution and was a close associate of Hasina's father, Mujibur Rahman.
Hossain said the girl he has known since she was a young woman has changed while in power. "The urge for power can make someone who's human into something less than human," he told the Associated Press in an interview.
But he has had to distance himself from some elements of the coalition, including former members of Jamaat-e-Islami, an Islamist party banned since from contesting the polls since 2013, when the high court declared its beliefs were contrary to the secularist principles of the country's constitution.
The BNP, the most powerful force in the coalition, was also accused of perpetrating human rights abuses during its most recent five-year term in power, which ended in 2009. But rights groups say Hasina's clampdown on dissent has been more systematic and effective, with the BNP a historically weak force and its leader, Khaleda Zia, in prison after being convicted twice this year of corruption.
The BNP's secretary general Mirza Fakhrul Islam Alamgir urged voters at a news conference on Thursday to "restore democracy" by voting for his coalition. "The government has lost moral support," he said.
Share it
Exclusive: Beyond the Covid-19 world's coverage