[Analytics] Corruption complicates Bangladesh's fight against Covid-19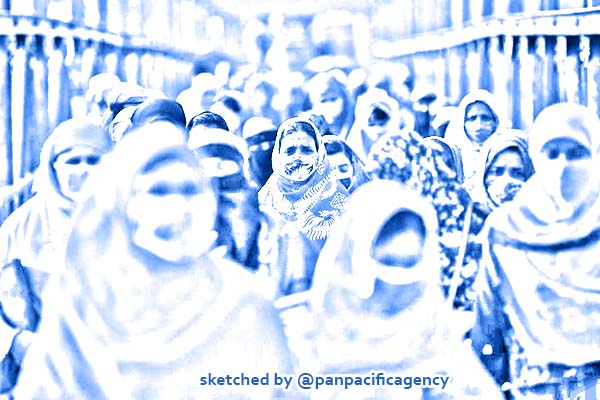 Dealing with nationwide disasters is nothing new to Bangladesh. In the past few decades, the country has been applauded for its resilience and success in managing extreme social and political unrest and natural disasters. The lockdown under COVID-19 presents a whole new set of challenges and will have long-lasting impacts on the economy, and particularly on the urban poor. Lutfun Nahar Lata specially for the East Asia Forum.
As of 13 November 2020, Bangladesh had recorded over 427,000 cases and 6140 deaths. It is estimated that nearly 50 million Bangladeshis will fall into poverty due to the ongoing epidemic.
When the government first imposed a national lockdown on 75 per cent of the country on 26 March, 13 million people suddenly found themselves unemployed. The urban poor have suffered the most due to a lack of savings and social safety nets, and because historically most social protection programs are designed to reduce rural poverty.
In May 2020, the Bangladesh government announced seven stimulus packages targeting different sectors and beneficiaries. But most of these packages do not help the poor, and instead are directed towards the garment sector and other industrial and service sectors.
Although the government allocated Tk 200 billion (US$2.4 billion) in loans to Cottage, Micro, Small and Medium Enterprises (CMSMEs) in the 2021 budget, the urban poor and informal workers will face difficulties in accessing this loan scheme due to a lack of collateral and questions over the legality of their businesses. And despite the government allocating US$11 billion towards the social security sector, the beneficiaries of this program are the rural poor, not the urban poor.
The government also launched a special Open Market Sale (OMS) operation on 6 April amid the COVID-19 lockdown. The program sold rice at just US$0.12 per kilogram, but desperately hungry people have been attacking the relief convoys. Others who asked for food handouts and some journalists who covered the misappropriation of food aid were also attacked. Meanwhile, law enforcement agencies went after hundreds of elected officials, ruling party members and suppliers for stealing the subsidised rice meant for the poor.
Due to operational challenges, particularly in complying with social distancing, the government suspended the OMS program on 13 April. Observers argue that suspending the program was wise, because it could have negatively impacted the national strategic food reserve if opportunists started reselling subsidised food on the open market.
But the government has not introduced an alternative program, exposing the urban poor to the risk of starvation. Instead of suspending the program, the government could have strengthened it by mobilising community leaders and better targeting poor communities. Another alternative would be to set up mass feeding centres in poor localities while imposing strict social distancing.
By late April, the government declared that 35 million people had received food relief and that cash transfers to 15 million were on the way. On 14 May, the government provided five million poor families with a cash handout of US$30 each through mobile financial services like bKash, Rocket, Nagad and SureCash.
The beneficiaries of these payments were Bangladesh's floating population, rickshaw and van-pullers, day labourers, dock workers, retail workers, small traders, street vendors and manual workers engaged in construction, agriculture, private businesses, poultry and dairy farms and transportation. The government selected these beneficiaries with the help of local administrations and elected representatives. But this selection process was not transparent and some followers of the ruling political party belonging to the middle class also received payments.
On 9 July, Daily Prothom Alo reported that the vice president of the Rajshahi City Farmer's League, a branch of the ruling party, received US$30. Similar discrepancies have been found in other areas, including food assistance. After an investigation into the beneficiary list, the Finance Division dropped 493,200 people from the list because they were from well-off families. This shows how the beneficiary list was influenced by people's political affiliation rather than economic status.
Despite the government's good intentions in offering stimulus packages for the poor, it needs to address issues regarding transparency and accountability. The government can work to resolve this in three ways.
First, the government needs to ensure that public services are uninterrupted and equally accessible for the urban poor as well as rural poor. Prioritising the rural poor's needs will increase the suffering of the urban poor who are already at risk of food shortages.
Second, the allocation of different stimulus packages needs to be improved, including the OMS program. State-funded food and cash assistance was reportedly distributed among the local politicians' favoured groups and there was a lack of coordination between different government bodies involved in these relief programs. The government needs to engage non-governmental organisations and local community members rather relying on local government officials and party followers to distribute resources fairly.
Finally, the government should have a clear database of targeted beneficiaries and their selection criteria as well as a well-designed monitoring system to ensure these programs provide social and not political benefits.
It is important to engage civil society organisations and community members in delivering Bangladesh's relief programs. External engagement could prevent political favouritism and nepotism from further derailing these initiatives. Civil society organisations in Bangladesh have long played a crucial role in providing services for the rural and urban poor and have more experience in preparing beneficiary lists and ensuring equal distribution.
It is time for the government to work together with civil society organisations to tackle hunger and corruption to better manage the COVID-19 disaster.
Lutfun Nahar Lata is a researcher at the School of Social Science, University of Queensland (UQ).
Share it
Exclusive: Beyond the Covid-19 world's coverage