Duterte puts Metro Manila, nearby provinces under modified quarantine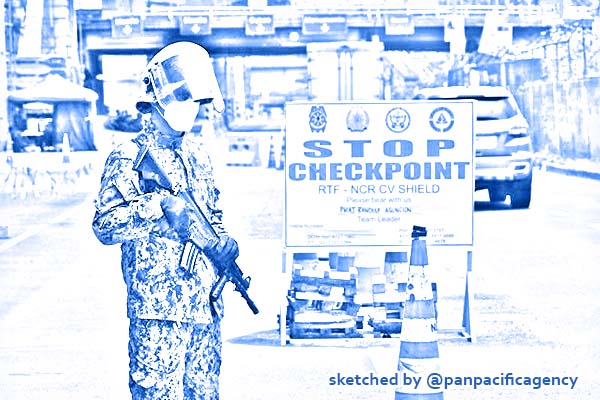 MANILA, Aug 3, 2020, PhilStar. President Rodrigo Duterte has approved the imposition of Modified Enhanced Community Quarantine in Metro Manila, Laguna, Cavite, Rizal and Bulacan as recommended by members of the Cabinet, The Philippine Star reported.
Presidential spokesperson Harry Roque made the announcement in a text message to reporters while the president was talking about something else entirely.
The MECQ will take effect at midnight of August 4 and will be in place until August 18, according to reports.
Under guidelines released by the government in May, areas under Modifiied ECQ will have limited movements within the MECQ zone for obtaining essential services and work.
The following protocols will also be in place:
Operation of selected manufacturing and processing plants up to maximum of 50% workforce
Limited transporting services for essential goods and services
No public transport
No domestic flights, limited international flights
Controlled inbound travel (OFWs/returning filipinos)
Biking and non-motorized transport encouraged
No inter-island travel
No physical classes at all levels
'Nobody was really prepared for this pandemic'
This comes after medical professionals and frontliners over the weekend issued separate statements urging the national government to reform and recalibrate its response to the COVID-19 pandemic, slamming what they called the administration's militarist approach.
"Nobody in this world was really prepared to deal with this, in only a matter of 48 hours upon advice, I already suspended the usual way of life. I already sequestered you inside the quarantine of your homes," Duterte said in a mix of Filipino and English.
"What I said earlier in the early days of this pandemic thing, I said that, you know, be careful because it is wallowing the rest of the world. In Cebu and Manila, you see, almost same behavior, there are really people still going out," he also said.
Duterte at his address also admitted to lapses on the part of the national government that were pointed out by the healthcare professionals, though he was quick to pin the blame on corrupt officials in local governments.
"I want the graft and corruption stopped. We have so many missteps because of corruption…I want to taste your humiliation while I am here [and] I will demand your resignation. We'll see who gets what," the chief executive swore, saying he wants corrupt officials dismissed immediately.
During a public address that aired at 11 p.m. and which presidential spokesperson Harry Roque said would see the president responding to the calls of healthcare frontliners, President Duterte in the opening minutes first addressed communist rebels, saying he would direct police and military to be "forgiving" so they could get their shots.
"Soldiers should be getting the first shots of the vaccine should we acquire them in due time," he also said.
Health authorities earlier that day logged another record-high single-day increase in coronavirus cases, this time with a troubling 5,032 new cases of the coronavirus, bringing the national caseload to 103,185, all on the fourth consecutive day and the 138th day since the first implementation of enhanced community quarantine.
A group of doctors on Sunday opposed a call for a return to enhanced community quarantine saying the way the quarantines have been implemented are "devoid of scientific sense and health purpose."
Franco Luna
Share it
Exclusive: Beyond the Covid-19 world's coverage