Three locations identified for China-Myanmar Economic Corridor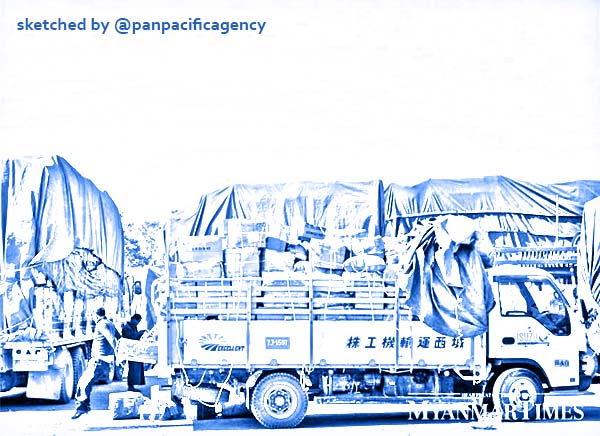 NAY PIY TAW, Jun 8, 2019, Myanmar Times. Three locations have been identified by Myanmar and Chinese officials under a memorandum of understandingfor the border economic cooperation core zones of the China-Myanmar Economic Corridor, reported the Myanmar Times.
U Khin Maung Lwin, deputy secretary of the Ministry of Commerce, told the Myanmar Times that the country's central committee for the Border Economic Cooperation Zone (BECZ), which met recently, decided on the areas for the core zones at Muse and Chin Shwe Haw in the northern part of Shan State and Kan Pite Tee in Kachin State.
He said the ministry would initiate a call for applications for expressions of interest (EOI) soon, adding that for the agreed upon Muse core zone, an export product manufacturing processing and warehouse area would be located at Panghsang (KyuKoke)-Wantain-Nwan Yin (Kyin San Kyawt)-Mantman (Shweli) while an import processing and warehouse area would be located at Salant (Manhiro)-Salin and Namkhang-Naungtaung.
The Chinese have also started processing works on their side of the border.
However, only Myanmar-owned companies will be allowed to participate in the bidding although foreign investors can still participate by holding up to a maximum 35 percent stake in such companies.
"We won't allow 100pc foreign investment. It is important because it is border trade zone," said U Khin Maung Lwin.
Local companies will have to present a detailed concept plan of their potential investment and source of their capital investment. "They will have to present EOI application on how they would implement projects," he said.
U Khin Maung Lwin said while the details for the Muse core zone have been mapped out, "the main thing is to be flexible. Our Concept Plan includes flexibility for both countries so that these zones can develop".
He said the Concept Plan gives potential investors sending in their EOIs an idea of how to present their agendas, including the source of funding, which would be taken into consideration by the ministry.
U Khin Maung Lwin said no detailed plans for the other two core zones have been established but the Concept Plans for both would be changed depending on their respective EOIs. He added that Myanmar would coordinate with China on the construction of the Kan Pite Tee core zone.
These core zones straddling the borders of both countries would have duty-free concessions, hotels, factories and banks. The zones will play a vital role in bilateral economic cooperation with Myanmar being able to conduct overland trade through Kyaul Kaung, China while Chinese overland trade can be conducted through Muse.
BECZ central committee chair U Than Myint said the cross-border trade would be beneficial to both countries and create many jobs.
Locals welcome these core zones for the opportunities that they offer. Muse resident U Sai Khin Maung said it would be better if Myanmar citizens can work in their own country rather than work as migrant workers across the border.
"It's very important to have more opportunities on our side. We are afraid to lose these opportunities," he said, fearing that Chinese dominance may mean Myanmar jobs being lost.
U Sai Khin Maung hopes that the government would ensure China plays fair where the overland border trade in agricultural products were concerned.
He noted in particular how Myanmar livelihoods were dependent on Chinese demand for such goods. "They open the border gates when they want our rice, peas, corn and sesame but close it when they don't. This situation needs to be overcome," said U Sai KhinMaung.
Share it
Exclusive: Beyond the Covid-19 world's coverage