Transport aircraft lands in Hanoi with Trump's copter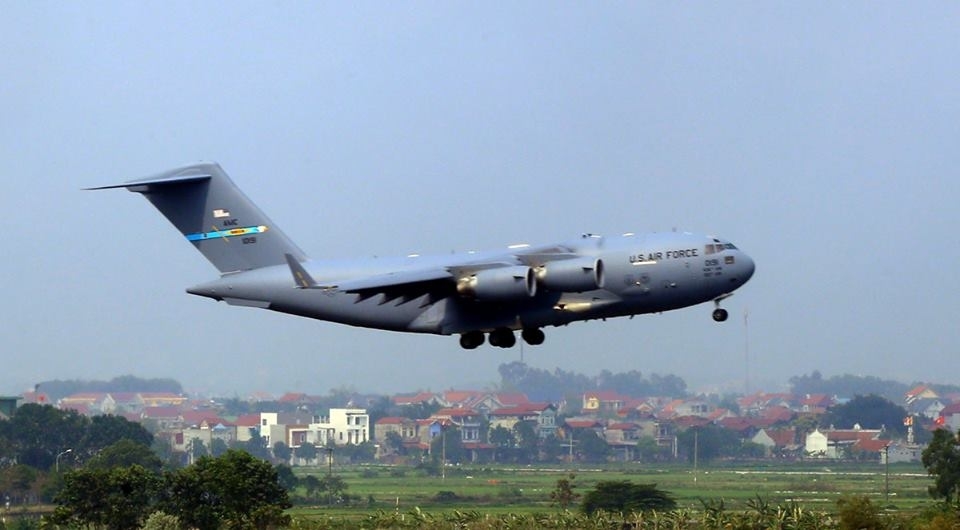 HANOI, Feb 20, 2019, VN Express. A Boeing C-17 landed at the Noi Bai Airport Wednesday afternoon, bringing a helicopter that U.S. President Trump will use in Vietnam, reported the VN Express.
The military transport aircraft carrying the Marine One helicopter and other equipment is parked in an airport hangar, ready to serve the U.S. President's needs when he arrives in Hanoi for his February 27-28 meeting with North Korean leader Kim Jong-un.
On February 14, two Boeing C-17 aircraft had flown from the U.S.'s Yokota airbase in Japan to Noi Bai with some goods and equipment to serve the second Trump-Kim summit.
It is expected that in coming days, more Boeing C-17 aircraft will arrive in Hanoi with additional equipment including two private cars for the president.
Noi Bai airport authorities have said that they are all set to receive President Trump.
The U.S. has sent personnel to check security inside and around the VIP guest house at the airport where the president will be received on landing.
Security inside the airport will be handled by U.S. personnel while Hanoi police and airport security personnel will be in charge of security outside.
At the time of the U.S. delegation's arrival, the airport will have the highest level of aviation security with over 800 personnel deployed.
But Noi Bai will seek to ensure that commercial aviation activities are not affected and there are no flight delays or cancellations.
The summit will mark Trump's second visit to Vietnam. He had taken part in the 2017 Asia-Pacific Economic Cooperation (APEC) Summit along with Chinese President Xi Jinping and Russia's Vladimir Putin in the central city of Da Nang in November 2017, before paying a state visit to Hanoi the same month.
Share it
Exclusive: Beyond the Covid-19 world's coverage