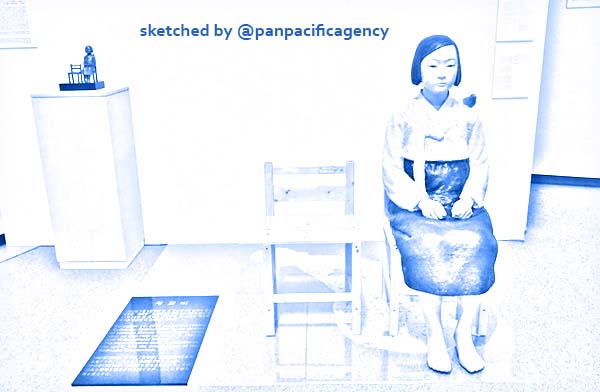 Late on a Friday night in Seoul, it's unusual to see the streets near Gangnam Station so empty. The neighbourhood is famed for its club scene, but as South Korea endures a second wave of Covid-19 infections, gatherings have been banned, affecting more than 2,000 bars and clubs. David Lee specially for the South China Morning Post.
However, as Friday night becomes Saturday morning, another alleyway lined by karaoke bars known as "room salons" begins to fill with visitors, mostly men still wearing their office clothes. Young women are also arriving at these venues, which are designated as yuheung upso, or "adult entertainment establishments". For a price, these hostesses will be available to join the men in rented rooms stocked with food and alcohol.
There are thousands of room salons in South Korea. Sex is not for sale on the premises but such venues have nonetheless developed a seedy reputation, as customers have been known to negotiate with hostesses to join them at nearby motels.
Room salons were closed for one month as part of the pandemic response, provoking protests among owners who claimed they would face bankruptcy if prevented from resuming business. The venues were subsequently allowed to partially reopen in mid-June, a decision that attracted criticism but also highlighted the unique status of such venues in South Korea's corporate culture.
'SOCIAL PROMISE'
According to Eom Joong-sik, a professor at Gachon University's Division of Infectious Diseases, the decision to reopen salon rooms was misguided.
"There are places with high social needs that need to be open even if the risk is high because it's too crucial for too many people," he says. "On the other hand, there are many places that provide for little to no social needs that should be closed decisively even if it has a low-risk chance of causing a potential outbreak."
Beyond their commercial value, salon rooms have long been pivotal to the way business is conducted as they are used to formalise deals and reinforce agreements, says Joohee Kim, a professor at Sogang University's Critical Global Studies Institute who studies the economics of South Korea's adult industries.
"There is a thing called a 'social promise' in our society where two sides give each other gifts to hold on to their side of the invisible deal," she says, adding that room salons are known to be frequented by politicians, police and justice officials. "The socially appropriate gift is to pay tremendous amounts of money to have female workers pour drinks into a man's glass for his pleasure.
"There is inevitably a business and friendly relationship between these men. In the past, room salons bribed police to conduct business without interference."
PLAYING SAFE
City officials defended the decision to reopen room salons, saying they were not classified as high-risk locations for infections. However, objections grew louder still when one venue was forced to shut down on the first day of reopening after one of its workers tested positive for coronavirus.
Since then, authorities have been making routine visits to ensure precautions such as social distancing, contact tracing and restricted numbers are observed.
In one establishment, called Byul, which means "star" in Korean, a group of four male customers and the female hostesses stand waiting outside a room. Byul is a 500 square metre space with 19 rooms. The manager, surrounded by perhaps two dozen female staff, estimates 100 men have visited each night since reopening.
"We sanitise every day and even provide masks for customers who didn't bring one," he says, although none of the waiting group are wearing one. "City authorities visit our building often, including earlier tonight."
Eom from Gachon University remains sceptical about the decision to reopen salon rooms, given the health risks.
"I don't agree with the decision to rely on previous track records to decide which places to open," he says. "Even if venues have not produced significant outbreaks in the past … there are so many possible variables to consider, such as the venue's ventilation system, bathrooms and hallways, among many other factors."
ESSENTIAL BUSINESS?
The status of salon rooms has also been reflected in popular culture. The 2015 South Korean film Inside Men contains one explicit scene where a presidential candidate, a newspaper editor and the head of a conglomerate conduct business in a salon room with naked women pouring alcohol into glasses and offering sexual services.
According to one man, a 42-year-old construction site manager who does not want to be named, such debauched scenes are not far from the reality.
"Workers at my company enjoy this type of entertainment and like to drink, so they usually don't miss a chance to visit a room salon when the company is paying," he says.
He recalls some colleagues visiting room salons almost every day before the 2008 financial crisis. Similarly, the coronavirus pandemic has paralysed the construction industry. With some venues charging 1 million Korean won (US$826) per person, visits have become less frequent, maybe three or four times a year. Still, salon rooms remain central to the way business is conducted, he says.
"In my case, other companies would avoid giving us business deals and auditors would find ways to issue penalties if I had rejected several calls to organise nights at room salons," he says. "When people reach a certain height in the social hierarchy, they are able to demand things from people below them and redeem free gifts in the form of women and drinks."
OLD EXCUSES
In South Korea, the patriarchal custom of women being provided for entertainment can be traced to the second-century gisaeng culture, which involved women from outcast or slave families being trained as courtesans to provide artistic entertainment and conversation to upper-class men.
According to a 2016 report by the Ministry of Gender Equality and Family, more than 50 per cent of Korean men have paid money for prostitution services at least once in their lives.
According to Kim from Sogang University, though, modern Korean women are less willing to tolerate salon rooms and the associated patronage system of men affirming "social promises" to one another, particularly where civic figures such as politicians or police are involved.
"Women are increasingly becoming educated and socially successful in modern times," she says. "The current generation of people in power are too content with the status quo, but there is hope that the next generation will see the need for changes in our culture.
"The usual excuse from men visiting room salons is that they were 'just there' and only went because 'someone else paid'. But more people are not buying into this excuse any more."
Share it
Exclusive: Beyond the Covid-19 world's coverage