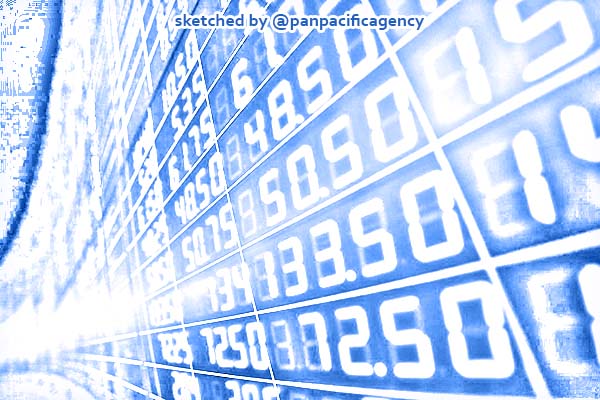 SEOUL, Mar 23, 2020, Yonhap. South Korean stocks dropped more than 5 percent on Monday, a day after rebounding by almost 8 percent the previous session, due to investors' growing jitters over the economic fallout from the novel coronavirus. The Korean won also sharply fell against the U.S. dollar, Yonhap reported.
The benchmark Korea Composite Stock Price Index (KOSPI) lost 83.69 points, or 5.34 percent, to close at 1,482.46.
Trading volume was high at 636 million shares worth 9.5 trillion won (US$7.5 billion), with losers far outnumbering gainers 829 to 66.
Trading on the main bourse was briefly halted just six minutes after the opening bell as stocks plunged by more than five percent. A five-minute trading halt was also issued on the secondary KOSDAQ market in the morning.
The main index trimmed earlier losses and reached as high as 1,516.75 after South Korean health authorities reported the lowest daily figure for new coronavirus infections since late last month.
The 64 new cases, which were detected Sunday, brought the nation's total COVID-19 infections to 8,961, the lowest daily increase in an almost one month.
However, the index extended losses in the afternoon session, failing to stay above the 1,500-point level.
"Investor sentiment still remains shaky due to a spike in novel coronavirus cases in the United States and Europe," Seo Sang-young, an analyst at Kiwoom Securities, said. "Europe and the United States will announce their key manufacturing indices this week, but as they are expected to deliver weak numbers, market concerns could grow further."
Foreigners extended their selling streak to a 13th consecutive session, dumping 640 billion won on the main bourse. Institutions offloaded a net 362 billion won, while retail investors scooped up 921 billion won.
South Korea last week approved an extra budget worth 11.7 trillion won (US$9.1 billion) to help the struggling economy, while its central bank cut its policy rate by half a percentage point to a record low of 0.75 percent.
But analysts expected that economic activities in the country are likely to stay low as South Korea is still grappling with cluster infections and imported cases.
"Even if the government pursues a stimulus package and injects liquidity, market concerns will not disappear soon," Lee Sang-jae, a researcher at Eugene Investment and Securities, said. "At this point, the most urgent policy is to give strong power to health authorities to contain the spread of the new coronavirus."
Most large-cap stocks closed in negative terrain.
Market kingpin Samsung Electronics slid 6.39 percent to 42,500 won, and No. 2 chipmaker SK hynix plunged 7.22 percent to 69,400 won.
Carmakers also moved lower, with No. 1 Hyundai Motor decreasing 3.09 percent to 68,900 won and its smaller sister Kia Motors surrendering 10.97 percent to 21,500 won.
However, pharmaceutical firm Celltrion spiked 14.75 percent to 175,000 won on hopes for COVID-19 treatment drug development. Samsung BioLogics also advanced 1.40 percent to 436,000 won.
The local currency closed at 1,266.50 won against the U.S. dollar, down 20 won from the previous session's close.
Share it
Exclusive: Beyond the Covid-19 world's coverage