Kiribati, FSM, Marshall Islands ban travellers from countries where the coronavirus has been confirmed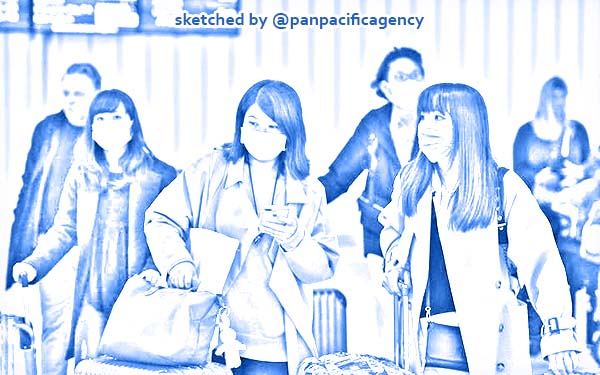 PALIKIR, Feb 2, 2020, RNZ. In the wake of the World Health Organization declaring the new novel coronavirus (2019-nCoV) to be a Public Health Emergency of International Concern, both the Federated States of Micronesia and the Marshall Islands issued expanded travel bans on Friday, Radio New Zealand reported.
Majuro's frontline of defense against measles and the new coronavirus is the Ministry of Health and Human Service's airport screening team that checks all inbound passengers for measles vaccine documentation or travel originated in China, Macau and Hong Kong.
FSM President David Panuelo signed a public health emergency declaration that bans travel by Micronesian citizens to China "and other countries with confirmed cases of coronavirus until further notice and until such time that a determination is made that the coronavirus is effectively contained".
The Marshall Islands, which on 24 January was one of the first countries in the central Pacific to issue a travel advisory banning direct travel from China, yesterday expanded the travel ban to include Macau and Hong Kong.
"All government of the Marshall Islands and sponsored official trips to be suspended to affected countries effective immediately until further notice, with the exception of patients approved by the RMI Medical Referral Committee," said the new travel advisory issued by Marshall Islands Health Secretary Jack Niedenthal on 31 January.
"These are interim travel restrictions, introduced to allow the Government of Marshall Islands to implement health emergency preparedness measures at points of entry, (and) to support the future rapid detection and containment of any 2019-nCoV cases," Niedenthal said.
On 25 January, three incoming passengers were refused entry to Majuro: one for lack of measles vaccine documentation and two traveling directly from China.
While the Marshall Islands' expanded travel ban impacts China, Macau and Hong Kong, the FSM emergency declaration casts a wide net, banning travel from the United States and over a dozen other countries where the 2019-nCoV has been confirmed.
In addition to outright banning travel to China and other nations with confirmed 2019-nCoV cases, President Panuelo's declaration "strongly advised" other citizens of the FSM to avoid "unnecessary" travel to these countries.
There is a complete travel ban on visitors from China to the FSM. For people traveling to the FSM from other countries with confirmed cases of the coronavirus, they are required to spend 14 days in a country or territory without the virus before they will be allowed to enter Micronesian ports in Pohnpei, Kosrae, Chuuk and Yap, Mr Panuelo's declaration stated.
"All visitors, returning citizens and residents to the FSM will require a health form certifying that they do not presently show symptoms of the coronavirus, and that they have resided in a coronavirus-free location for a minimum of 14 days," said a statement issued by the FSM President's Office.
"I will do whatever is necessary to protect our nation and our citizens," President Panuelo said. "Micronesians are renowned for their humility, respect and deference to others, and calm attitude towards challenges. The government is aware that citizens have reacted to the existence and speedy propagation of this new virus with an alarm that could be described as out-of-character, and I believe that the cause for these concerns are predicated on citizens' legitimate worries that this virus may ultimately reach our shores."
The Kiribati government has placed all visa applications from China on hold in an effort to stave off the coronavirus. Kiribati is the latest Pacific country to impose entry requirements to stop the spread off the virus, Radio New Zealand reported.
All visitors are now required to fill out a health form and travellers from countries with the coronavirus must go through a self-quarantine period.
Meanwhile, health authorities in Wallis and Futuna have ordered 5000 face masks amid concern over the propagation of the coronavirus.
This is the territory's biggest order of its kind as people worry the respiratory illness could reach the archipelago.
A heat seeking camera is operational at the airport to screen arriving passengers for fever.
Wallis and Futuna's only air link is provided by New Caledonia's international carrier, Aircalin.
New Caledonia has also introduced a screening system.
A planned Aircalin charter flight from China to New Caledonia for the Lunar New Year holiday was cancelled last week because of documentation problems.
Share it
Exclusive: Beyond the Covid-19 world's coverage