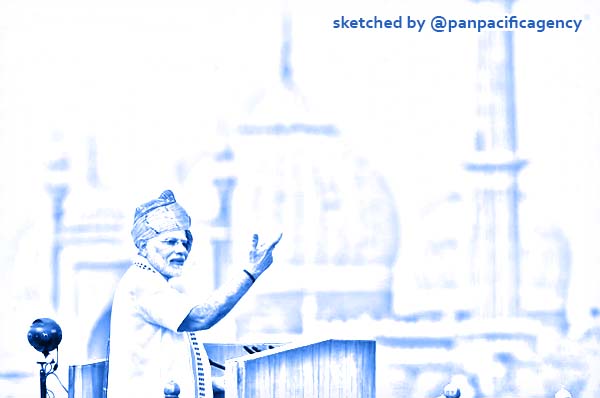 NEW DELHI, Jan 31, 2021, AIR. Prime Minister Narendra Modi has said that India's fight against Corona and it's vaccination programme has turned out to be exemplary for the world. He said India is undertaking the biggest Covid Vaccine Programme as well as vaccinating citizens faster than anywhere in the world, All India Radio reported.
Addressing the nation in his Mann Ki Baat programme on All India Radio, Mr Modi expressed pride that in just 15 days, India has vaccinated over 30 lakh corona warriors. The US took 18 days to get it done while Britain took 36 days.
Prime Minister Modi hailed the Indian cricket team for winning the series in Australia after initial setbacks. He said the hard work and teamwork of players is inspirational. Mr Modi said that amidst all this, the country was saddened by the insult to the Tricolor on the 26th of January in Delhi. He said people have to infuse times to come with new hope and novelty. He asked everyone to work hard to attain resolutions and take the country forward at a faster pace.
The Prime Minister recounted how Priyanka Pandey, a student of Hindi literature from Siwan in Bihar, drew inspiration from his suggestion to visit 15 domestic tourist places. On 1st of January, she started for a destination 15 kilometers away from her home – it was the ancestral residence of the country's first President Dr Rajendra Prasad. Priyanka came across many books written by Dr Rajendra Prasad and many historical photographs as well.
Prime Minister Modi said India is going to commence the celebration of 75 years of Independence – Amrit Mahotsav. He termed it an excellent time to explore places associated with heroes of freedom struggle.
Mr Modi asked people to send innovative slogans or catch phrases related to road safety on MyGov which will be used during the Road Safety month. He mentioned a post received on NaMo app from Aparna Das of Kolkata asking him to speak on the 'FASTag programme'. She says that the experience of travel has changed with 'FASTag'. Prime Minister Modi said that earlier, a vehicle used to take on an average 7 to 8 minutes to cross toll plazas. However, since the emergence of 'FASTag', this time has reduced to around one and a half minutes to 2 minutes on an average. Due to this reduced waiting time at the Toll plaza, fuel too is being saved. It is estimated that this will save approximately 21 thousand crore Rupees of the taxpayers. Mr Modi urged everyone to follow all the guidelines, and take all measures for road safety.
In his first address of Mann Ki Baat on All India radio this year Prime Minister Narendra Modi mentioned the ongoing strawberry festival of Jhansi which was inaugurated on 17th of this month by Chief Minister of state Yogi Adityanath. While inaugurating the unique festival Yogi Adityanath said that the initiative of growing strawberries will go too far to give a new identity to the region which is famous for its Valour and bravery.
He had said that the farmers are now growing strawberries on their roof top and they have broken the image of Bundelkhand considered to have infertile land in the past. Currently around 10000 kgs of strawberries are growing in around 14 acre of land in Jhansi district and the aim of strawberry festival is to promote the cultivation in the entire Bundelkhand region. On the inauguration day on 17th January AIR news spoke to the district magistrate of Jhansi Andre Vansi who told that the motive behind organising such kind of festival was to make farmers aware of the various schemes of horticulture department which can help them in strawberry cultivation.
Prime Minister Narendra Modi in 'Mann Ki Baat' today mentioned tribal women from chichgaon in MP.
Share it
Exclusive: Beyond the Covid-19 world's coverage