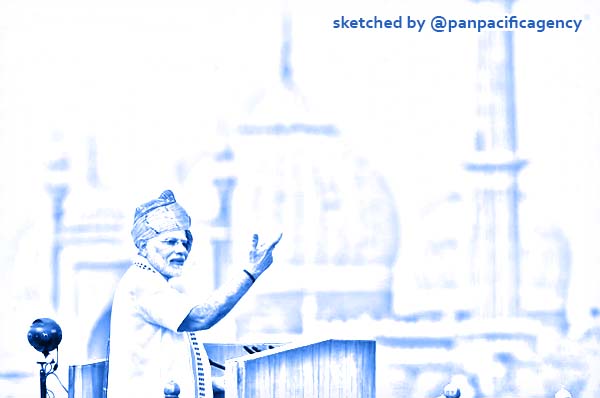 Something interesting is going on right before our very eyes, and it's time for all of us to sit up and think about it. Shailaja Bajpai specially for The Print.
Prime Minister Narendra Modi is becoming a TV god; on television news he is projected as the messiah, the builder of not only the new Parliament complex in the national capital, but also the architect of a new India.
Simultaneously, the Congress and other opposition parties are being systematically cut into small pieces as the 'tukde tukde gang', which oppose Modi for the sake of opposing him and therefore oppose India's growth story too.
And in the pursuit of these twin objectives, politics has become a dirty word. This is troubling in itself, but it's even more worrying when leading TV anchors make statements like this one: "What is holding us back? I think it's politics". (Arnab Goswami, 'Is perpetual politics holding back India's Growth?' Republic TV).
Last Sunday morning, Information and Broadcasting Minister Prakash Javadekar appeared at a press briefing to announce that a poll by a US firm, Morning Consult (huh?) had declared PM Modi to be the most admired leader of a country. He congratulated his fellow citizens saying that this was a big accomplishment for India.
The message? Modi is India, India is Modi, an echo of the infamous Congress slogan coined by Congressman D.K. Barooah, 'India is Indira and Indira is India'.
Modi 24×7
This point is reiterated by regular opinion polls on Indian news channels – during elections, especially – that say Modi is by far the most popular and respected politician in the country — by 1,000 miles….
In the past few months, there's been another successful media gambit to project PM Modi: each time he moves an inch, lays a foundation stone, visits his constituency, delivers a campaign speech, inaugurates a mountain or a molehill (!), launches a scheme, or shares his Mann ki Baat, the event goes live on TV, in its entirety.
Since 24 December 2020, the PM has done one of the above on 12 out of 14 days. On each occasion, he has propounded his views on current topics like the farmers' protests or attacked the opposition. These speeches are broadcast in the afternoon and repeated again during prime time. His Monday address to the jubilee celebrations of the National Physical Laboratory under the Council of Scientific and Industrial Research (CSIR), which hailed scientists and the two 'made-in-India' vaccines, went out live and was repeatedly televised.
Result? The PM is either celebrated or is seen and heard celebrating his government's policies for various sections of society — and attacking his detractors. He is with us, virtually, each day, embedded in our consciousness by this constant exposure, like nobody else.
Also read: DCGI's Covaxin 'approval' is political jumla. It reinforces idea of Modi's Atmanirbhar Bharat
Royal backfire for opposition
Meanwhile, on the other side of the aisle, the Congress and opposition leaders are on the wrong inflection point — yet again. Where the PM appears positive, they are invariably negative — and since this is not a coronavirus test, it's not a good thing. Be it Rahul Gandhi, Mamata Banerjee, or Akhilesh Yadav, they come across as spoilsports who find fault with everything the Modi government does. Boo hoo…
The entire controversy over India's Covid-19 vaccines illustrates this perfectly.
Even as the Indian Council of Medical Research (ICMR) cleared the emergency use of two coronavirus vaccines over the weekend, Samajwadi Party president Akhilesh Yadav inched further towards irrelevance by foolishly stating with great bravado that he would not roll up his sleeve for the 'BJP vaccine'. As if the BJP and the PM didn't already own India's fight against Covid-19, it was now handed to them on a golden platter.
Then on Sunday, several Congress leaders, including Shashi Tharoor and Jairam Ramesh, questioned the clearance given to Bharat Biotech's Covaxin on the grounds that phase 3 testing data was pending.
It was the wrong PR move: the party ought to have left scientists to raise questions if questions had to be raised; it ought to have congratulated the Indian scientists and Indian companies for developing the vaccines and be seen doing that in the media.
Instead, they saw a red rag and rushed headlong into the usual trap: surely after six years, the Congress and other opposition parties ought to know, to their cost, that the moment they cry foul, TV news will yell back, 'cry baby'?
The consequence of this was there for all to see: "Congress questions vaccine'' became headline news (NDTV 24×7) as channels asked the question — "Why politicise vaccine?'' (CNN News 18), "Ugly politics erupts over vaccine" (India Today) — all of which made the Congress look churlish and petty.
The party also presented the BJP with another stick to spank it with: Tuesday, BJP spokesperson Sambit Patra told the media about the "low level of politics by the opposition'' that was promoting "foreign forces" instead of asking people to be 'atmanirbhar'.
Worse, news channels highlighted the opposition demand that the PM must take the "first jab'' of Covaxin. Wah, can't you just see the spectacle, already? Modi, with his sleeve rolled up, taking the shot in the arm – the footage will play out for days on TV news and some will anoint him 'Vaccine PM'. And that, as they say, will be that.
Also read: Modi govt's proposal shows it wants farmers to look unreasonable, not address their concerns
Death of political dissent
But there has been collateral damage: politics has ended up with soot on its face. Each time political parties, other than the BJP, comment on policies, government statements, the PM etc., the news channels rise to defend them, accusing the opposition, of "playing politics'' as though it is a crime. Isn't that what political parties are meant to do and what the BJP does too, we long to ask.
Last Sunday, this viewpoint found articulation on Republic TV's Sunday Debate with Arnab in #PoliticsOverEverything. Goswami wanted to know, "What is holding our great nation back?'' And his answer was, "Politics has become our biggest problem…", by which of course he was referring to the opposition "playing politics".
Are news channels and news anchors saying that criticism of the PM, the government, and its policies — in other words, political dissent — in a democracy is unacceptable?
Just asking.
Share it
Exclusive: Beyond the Covid-19 world's coverage