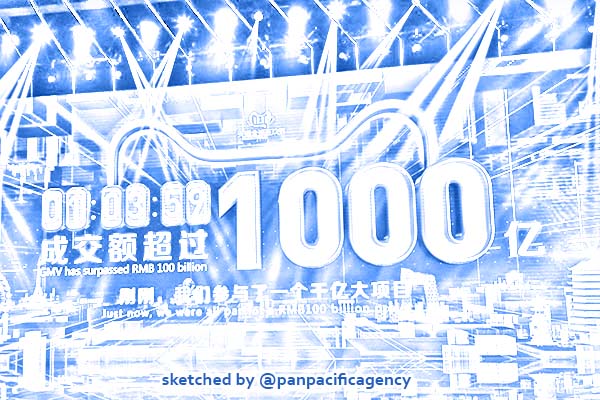 BEIJING, Nov 13, 2019, SCMP. 'Live streaming is popular as it plays on the long-popular theme of TV shopping, but in a much more interactive and entertaining way,' analyst says, South China Morning Post reported.
23-year-old He Hai opens thousands of clams in front of the camera every day. As the owner of an online jewellery shop on Taobao, he showcases fresh pearls for his customers who watch the live streaming and make orders right away.
Growth in live-streaming shopping now contributes 80 per cent of revenue at his UU Pearl store. On the day of the Double 11 shopping festival, the store generated 100,000 yuan (US$14,289) in sales, mostly from live streaming, three times the normal daily volume.
Having dived into the new form of e-commerce two years ago, He said that it enables merchants to introduce products in a more accurate, detailed and interactive way. His store has three people take turns to live broadcast for 16 hours a day, the maximum stipulated by Taobao. "If not for the rules, we would definitely do it 24/7," he said.
UU Pearl's success in Singles' Day points to the rising importance of live streaming as a channel for sales. Of Alibaba's 268.4 billion yuan (US$38.4 billion) single-day transactions on Monday, nearly 20 billion yuan, or 7.5 per cent of total sales, came from live streaming.
"Live streaming is popular as it plays on the long-popular theme of TV shopping, but in a much more interactive and entertaining way," said Mark Tanner, founder and managing director of Shanghai-based consultancy China Skinny.
"The simple one-click purchase taps into Chinese consumers' love of convenience, shopping and entertainment, amplified by the KOL [key opinion leaders] factor," he said.
Working in the property industry, 27-year-old Zhang Jing spent about 5,000 yuan to 6,000 yuan on this year's Singles' Day. She bought some make-up, skincare products and food – which she plans on using through until the middle of next year.
She watched Taobao live streaming at least once a week since the middle of 2018.
"It's cheaper than if you had directly bought from the Tmall store. Influencers have corporations with brands so they will offer a cheaper price or give more free gifts if you buy through live streaming," Zhang said. "It also helps you to figure out how to calculate the discount. Taobao is too big now and some of the discount rules are very complex."
But she admitted that live streaming also has a bad side, such as encouraging impulse buying.
"When I'm watching live streaming, it makes me feel excited and I purchase a lot. The next day I open my purchase history and realise there are some items I do not actually need, so I return the items. It happens often," Zhang said.
More than half of the merchants taking part in the shopping festival have gained growth from live streaming and more than 10 live broadcasts led to transactions of over 100 million yuan on Monday. For furniture and decoration as well as the consumer electronics industry, live streaming transactions increased by more than 400 per cent, according to a statement from Alibaba.
"Live streaming successfully captured consumer attention and helped them discover products," said Wang Xiaofeng, senior analyst at Forrester Research. "Recommendations from KOLs and real-time comments from peers helped consumers make purchase decisions faster. Live-streaming sessions often include exclusive limited-number and limited-time offers that create urgency to buy."
To sellers and live streamers, the festival is more of a marathon, and for some of them, not even a voluntary one.
Fister Sun, an online retailer of sportswear on WeChat, said he had to "play along" under the "pervasive" festive atmosphere.
"Not only Taobao and JD, my peers on WeChat also had campaigns for Singles' Day, so I did the same," said Sun, who has a full-time office job in Beijing but took on the side job two months ago. "The margin is already very thin, so my offer is a full-house reduction of 50 yuan per every 500 yuan of purchases."
Given that the e-commerce boom has pressured offline stores, he has also been able to pick up some stock from failing outlets although the environment remains very competitive.
The live-streaming phenomenon in China has popped out of the broader "shoppertainment" trend in China's e-commerce sector, which is starting to influence western platforms as a way for them to capitalise on popular influencers at sales events. Amazon, for instance, launched Amazon Live earlier this year following an earlier failed attempt.
China, with its one billion internet population, is increasingly becoming a source of new innovation in the internet and e-commerce sectors – which does not always involve reinventing the wheel and can mean putting new twists on popular formats. Live streaming in one way can be seen as a modern version of cable TV shopping platforms popularised by the likes of QVC in the 1980s.
And Instagram, for example, has expanded its shopping features by allowing merchants to add shopping tags to their social media posts as the US photo and video-sharing giant takes a leaf out of the book of Chinese social commerce networks, such as Xiaohongshu.
"There is no doubt that people will be looking at the explosion [of live steaming] at 11.11, particularly around inspiring influencers to do it," said China Skinny's Tanner.
Initially seen as a type of anti-Valentine's Day, Singles' Day has now evolved into the world's largest shopping spree. The annual event featured discounts that were not only driven by big e-commerce platforms but also retailers around the country.
Shoppers scooped up everything from consumer electronics to luxury items and even cars. This year, consumers from China's smaller cities became a strong contributor to the growth in Singles' Day transactions.
"This year, there was a bigger focus on targeting China's less developed markets, which has seen the biggest growth in new customers as Alibaba has already reached saturation in higher tier cities," said Philip Wiggenraad, head of research at Hong Kong-based retail innovation firm Tofugear.
"This move is also in response to the success that online platform Pinduoduo has been having in lower tier cities through its "team purchase" business model, which offers steep discounts to shoppers that join forces to buy in bulk."
Jiang Fan, president of Taobao and Tmall said in a statement that compared with last year, over 100 million more users took part in the event. He added that there were 226 million new monthly active users on Taobao in the past two years. Most them are from low tier cities, who became active buyers in this years' Singles' Day shopping festival.
While on JD.com, which posted a transaction volume of over 204.4 billion yuan in the 24-hour shopping extravaganza, user orders climbed over 60 per cent in lower tier cities and 70 per cent of the new users came from lower tier cities, according to the company.
Jiaozuo in Henan province, Baoding in Hebei province, Quanzhou in Fujian province, Xuzhou in Jiangsu province and Jining in Shandong province were the top 5 cities in terms of the proportion of new customers.
At Pinduoduo, buyers from tier-three or even lower-tier cities bought 1,000 cars within 16 minutes, according to information from the company. Sales of farm goods from poor areas in China surged over 220 per cent and were mainly bought by consumers in first and second-tier cities.
"On this day, we felt the resilience and strong vitality of the Chinese economy," the company said in a statement. "The rapid growth of mobile internet and new e-commerce companies like Pinduoduo have allowed us to see the infinite power brought about by new … urban and rural consumption."
He Fang, a 55-year-old from Longquanyi county in western Sichuan province, took part in Double 11 for the first time this year. Although she did not figure out how to get digital coupons, she felt the charm of online shopping after buying a refrigerator that was 25 per cent cheaper than at bricks-and-mortar stores. It arrived at her home on the same day.
"Now I understand why young people are so obsessed with shopping online. Those digital marketplaces are so dazzling and they always recommend the things you need and cannot find offline," she said, adding she would definitely join next year's festival.
But live streaming and lower tier city users are just two of several consumption trends apparent in China's Singles' Day this year.
Interestingly, wig sales became a top three hashtag on Chinese microblog platform Weibo overnight, and the region and age breakdown of buyers became a topic of interest.
Surprisingly, those born between 1990 and 2000 were the driving force behind wig demand this year, accounting for 42 per cent of the total, according to statistics from Alibaba platforms, although the company did not reveal an overall sales number.
First-tier cities Shanghai, Beijing, Guangzhou and Shenzhen ranked as the top four shipping destinations, as hair loss becomes an issue of concern among China's younger generation, who often work hard and play hard.
The same age group also dominated sales of pet food. As of 8pm on Monday, Tmall retailers sold over 14,000 tons of cat food and 18,000 tons of dog food.
And Singles' Day is not only an online-only affair now.
At Wangfujing street in Beijing, the gala also attracted restaurants such as Malubianbian, a branch of the Sichuan style hotpot restaurant chain, which gave out coupons worth about a third of an average meal bill to use within a month.
Neither is Singles' Day just about Chinese consumers now.
In Berlin, which has just celebrated the 30th anniversary of the fall of the Berlin Wall, one department store was spotted advertising a 20 per cent discount for purchases as part of its own November 11 promotion.
Jane Zhang, Sarah Dai, Coco Feng. Additional reporting by Zen Soo, Iris Deng and Tracy Qu
Share it
Exclusive: Beyond the Covid-19 world's coverage