Thousands march in Hong Kong to take anti-extradition Bill message directly to mainland Chinese visitors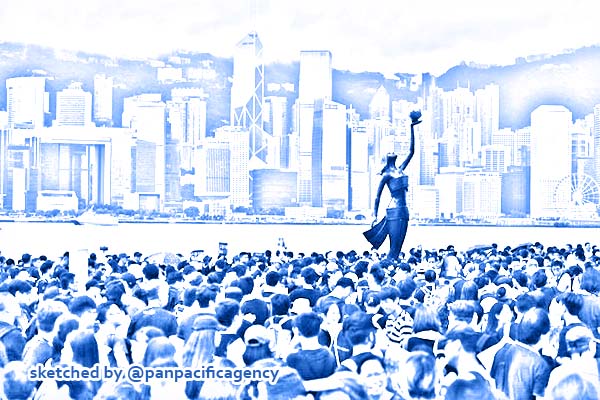 HONG KONG, Jul 7, 2019, The Straits Times. Thousands of protesters against Hong Kong's controversial extradition Bill gathered at Salisbury Gardens in the city's busy Tsim Sha Tsui, to join a march that attempts to bring their message directly to mainland China, reported The Straits Times.
Unlike previous demonstrations, where the dissatisfaction had been aimed at the Hong Kong government, Sunday's (July 7) protest march has set its sights on the mainland and mainland Chinese visitors.
The march began at Salisbury Gardens at about 3.40pm, with protesters moving towards the Hong Kong West Kowloon Station, where high-speed trains from the mainland stop.
Among those who turned up were young people and families, despite the rain and gloomy weather. People were giving out bottles of water as well as flyers with tips on maintaining mental wellness to the protesters.
A big banner with the five demands has also been put up. The demands are: fully scrap the extradition Bill, remove the label of June 12 protests as a "riot", investigate allegations of police abuse, release protesters who were arrested, and for universal suffrage to be rolled out by next year.
"Our spirits are a bit low because the government has not been responding to our requests, but I think it's important to come out and show our support," contractor Chan Fui Ming, 29, who attended the march with friends, told The Straits Times.
Demonstrators have said that they want to show mainland China and its people how dissatisfied they are with the Bill, and have chosen to end the march at the West Kowloon Station where mainland tourists board trains to return home.
The Hong Kong protests have received little coverage in mainland China, where censors have blocked most news related to the demonstrations. In its limited coverage, mainland media has portrayed the Hong Kong protests as a primarily violent, foreign-funded plot to destabilise the motherland.
Pro-democracy activist Ventus Lau, who had applied for the permit for Sunday's protest march, told The Straits Times that he does not expect the government to answer protesters' demands.
"What we want to do is show mainland visitors that protests in Hong Kong are peaceful and graceful," said Mr Lau.
In view of the march, some travel agencies will keep tour groups away from the Tsim Sha Tsui area – popular with mainland tourists – on Sunday afternoon, local radio station RTHK reported, quoting the Tourism Association.
Although organisers have called for the protests to be "peaceful, rational and graceful", there are concerns things could get ugly.
PROTEST TURNED UGLY
On July 1, young protesters stormed the city's Legislative Council (LegCo) complex, breaking display screens and spraying graffiti on the walls.
Hong Kong protesters marching from Salisbury Gardens towards West Kowloon Station
The city has seen demonstrations over the Bill since June 6, when the city's lawyers marched in a silent protest. Mass demonstrations began on June 9, when hundreds of thousands of people took to the streets to express their unhappiness.
The Bill, mooted in February, was intended to allow Hong Kong to send suspects to jurisdictions it does not have extradition agreements with, including mainland China. But those opposing the Bill are concerned that the opaque Chinese legal system could mean people in Hong Kong could be targeted under the Bill without receiving a fair trial or human rights protection.
In a huge climbdown, the Hong Kong government suspended the Bill on June 15, but protesters want it to be dumped entirely.
On Saturday, protesters also scuffled with police at a park in Hong Kong's Tuen Mun area, near the border with mainland China, targetting so-called "dancing aunties", or "damas" from the mainland, who blast music through loudspeakers in parks and dance provocatively to solicit cash donations.
Nearly 2,000 people had rallied at the park, and protesters said police used pepper spray briefly to control the crowd.
POLICE ADVISORY
On Sunday morning, Hong Kong police issued a public appeal urging protesters to express their views in a peaceful and rational manner.
"Members of the public should comply with the laws of Hong Kong and maintain social order when expressing their views," the police said in a statement.
"Should there be any confrontation, they should protect their own safety, maintain a safe distance from the violent protesters or leave the scene immediately so as to give police enough space to deal with any violent and unlawful acts," the statement added.
The transport department will close some roads temporarily and public transport will be diverted, the police statement said.
RTHK reported earlier on Sunday that more than 1,000 police officers will be on standby.
Meanwhile, all entrances to West Kowloon station will be closed on Sunday, except for one entrance, according to a statement by the MTR Corporation. It added that passengers will only be able to exit via another entrance.
In addition, only people with valid tickets and travel documents will be allowed to enter the station, according to the statement. Vehicular access to the station will also be banned for the entire Sunday.
Share it
Exclusive: Beyond the Covid-19 world's coverage