Site boss bailed amid grief over 50 deaths in Taiwan train crash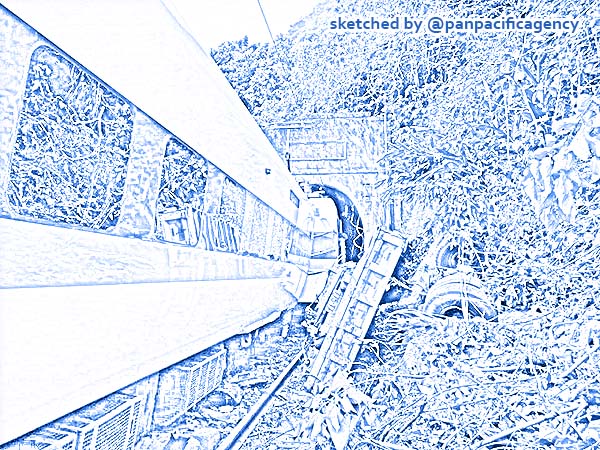 Officials investigating a train crash in Taiwan that killed at least 50 people are focusing on a maintenance lorry that slid onto the track.
The train hit the lorry then crashed inside a tunnel on Friday. A construction site manager suspected of negligence has been granted bail.
Rescuers are yet to extract a number of mangled carriages from the tunnel and fear they may find more bodies.
The train had been packed with people travelling to celebrate a holiday.
The accident was Taiwan's worst rail disaster in more than 70 years.
The train had been travelling from the capital Taipei to Taitung and was entering the tunnel north of Hualien when the crash happened. Many of the nearly 500 passengers on board may have been standing because the train was so full.
The 408 train is one of the fastest deployed on Taiwan's network and can reach speeds of 130km/h (80mph).
President Tsai Ing-wen visited a hospital in Hualien on Saturday to "express my sympathy to the families of the victims," she said.
Grieving relatives, some holding makeshift shrines and weeping openly, held prayers at the crash site on Saturday.
Flags across the island are being be flown at half mast for three days. Among those honouring the victims were baseball players from the Fubon Guardians team, who observed a minute's silence ahead of a game on Friday.
What's the latest at the scene?
Rescuers remain at the scene as part of the mangled train is still in the tunnel.
On Saturday the unnamed construction site manager was released on $15,000 (£11,000) bail after prosecutors sought a warrant for his arrest.
He could face charges of causing death by negligence and of forging documents and he said he was co-operating with investigators.
"Prosecutors will certainly step up investigation and understanding of the crimes or of other suspects involved in the case," department of prosecutorial affairs director-general Lin Jinn-tsun said.
Meanwhile, recovery teams have begun removing the rear carriages of the train which were relatively unscathed. Fire service chiefs said they expected to find more bodies trapped in the carriages still inside the tunnel.
What do we know about the crash?
It took place at about 09:00 local time (01:00 GMT) on Friday.
Some passengers at the back of the train were able to walk away unscathed, while 100 were rescued from the first four carriages.
Many were trapped inside the wreckage for hours and some survivors told how they smashed windows to escape.
Share it
Exclusive: Beyond the Covid-19 world's coverage