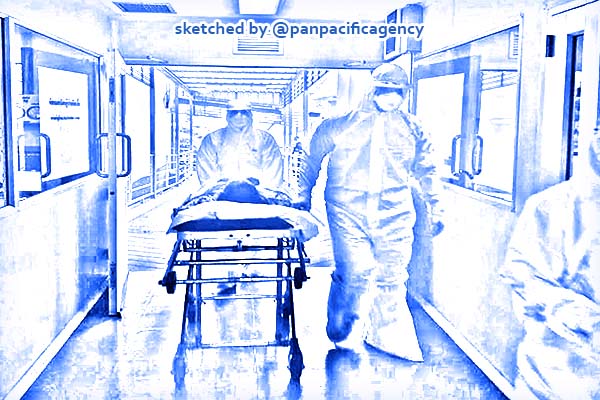 BEIJING, Feb 20, 2020, SCMP. China reported its lowest number of new coronavirus cases on Thursday since January 23 when Wuhan – epicentre of the outbreak – went into lockdown, but a leading Chinese scientist has warned the disease may become an established illness like flu. Wang Chen, president of the China Academy of Medical Science, said that despite the recent drop in the rate of new cases and fatalities on the mainland, the world should be prepared for the possibility that Covid-19 – the official name of the illness caused by the coronavirus – was here to stay, South China Morning Post reported.
Wang said the new coronavirus was different from the virus which caused severe acute respiratory syndrome (Sars), which was both contagious and fatal. "This new coronavirus may become a long-term disease that coexists with humans, just like flu," he told state broadcaster CCTV on Wednesday.
It was up to scientists, he said, to be prepared to study the coronavirus for the long term, and help to devise clinical strategies. "The key to contain the virus should be in scientific research," he said.
US issues travel advisory for Hong Kong
Travellers to Hong Kong have been warned by the US Centres for Disease Control and Prevention to be prepared for the novel coronavirus after the death of a second person in the city from the infection.
The agency put out a "level one" travel notice for Hong Kong advising visitors to avoid contact with sick people and to wash their hands often to avoid contracting the virus, which is spreading there from person-to-person.
This compares to the level four advisory the CDC has in place for Hubei, which means no one should travel there. The rest of mainland China is at level three, which means people should avoid non-essential travel.
Some Wuhan patients waiting 'too long' for hospital
In his appearance on CCTV, Wang Chen, head of China's medical science academy, did not say whether the outbreak had reached its peak, commenting only that measures should be taken to contain its spread.
Wang also said some patients in Wuhan were waiting too long for hospitalisation, which heightened the risk of spreading the virus. "The waiting period should be shortened," he said.
There were 394 new cases reported in mainland China, and a further 114 deaths, as of midnight Wednesday. So far, the disease has killed 2,118 people on the mainland, from a total of 74,576 confirmed cases. China's National Health Commission reported that 1,779 patients had recovered by Wednesday, bringing the total number of people who have recovered from the disease to 16,155.
It was also the 16th straight day of a fall in new infections outside Hubei province. New infections in Hubei have now dropped for seven consecutive days.
Too early for optimism, despite fall in cases
Huang Yanzhong, a senior fellow for global health at the Council on Foreign Relations, said the tapering off of infections in mainland China outside the worst-affected province indicated the measures taken to stop the spread of the disease were working.
"The heavy-handed containment measures appear to be effective in stemming the further spread of the virus outside Hubei province," Huang said.
Public buildings converted into medical facilities for coronavirus patients in Chinese city of Wuhan
But Chen Xi, assistant professor of health policy and economics at the Yale School of Public Health, said it may be too early to conclude that infections had peaked. Measures to close down community neighbourhoods in Wuhan had just been implemented, and their effectiveness remained to be seen, he said.
"While there has been a decline in the number of new confirmed cases and suspected cases, the increase in new cases continues to add to the demand for medical resources, although the discharge of recovered patients can help release some of these. In other words, the demand for medical resources remains tight and we are still at a critical stage in this battle against the disease."
Chen said the number of daily suspected cases, while falling, remained high.
Diagnostic change continues to affect Hubei data
In Wuhan, provincial capital of Hubei, changes in diagnostic criteria continued to affect the number of reported cases. There were 615 new cases recorded, but the National Health Commission said the actual number was 359, after some cases were removed because of the diagnostic change.
Previously, Hubei, including Wuhan, also counted clinically diagnosed patients as confirmed cases. This changed on Wednesday with a new treatment plan, which will count only those who have tested positive in a nucleic acid test. Numbers of cases were accordingly deducted in 10 cities, with the city of Jingmen in Hubei taking 107 previously confirmed cases from its records.
Hubei reported 108 new deaths – a fall on the previous day's 132 – on Thursday, bringing the province's total fatalities to 2,029. Provincial capital Wuhan, where the coronavirus is believed to have originated at a seafood and meat market, accounted for 88 deaths, the local health authority said.
The province also reported a sharp drop in newly confirmed cases at 349, compared with 1,693 on Wednesday. These figures raised the province's total infections to 62,031 since December, when the illness was first reported.
China's poor hardest hit by outbreak
The economic disruption caused by the Covid-19 outbreak is taking its toll on China's poorest people as experts and the country's leaders warned it could undermine its poverty reduction drive.
Yu Shaoxiang, a social security and poverty relief expert with the Chinese Academy of Social Sciences, said most of those battling poverty lived in rural China and their livelihoods had been severely affected by their local governments' extreme lockdown quarantine measures.
"I have learned that a poultry farmer had to bury tens of thousands of chickens alive because he couldn't buy poultry feed. Tangerine and strawberry farmers are watching their produce rotting away because there is no way to sell them," Yu said.
Wang Yang, the Communist Party's number four, this week told a group of political advisers that the outbreak was the "number one factor" affecting President Xi Jinping's drive to eradicate extreme poverty by the end of this year.
Additional reporting by Bloomberg
Share it
Exclusive: Beyond the Covid-19 world's coverage