Donald Trump meets Queen at start of UK state visit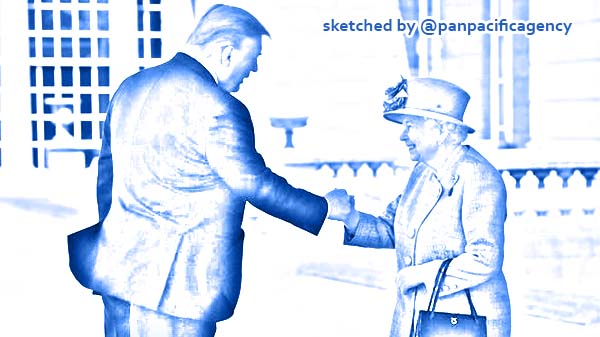 LONDON, Jun 3, 2019, BBC. US President Donald Trump and First Lady Melania Trump are meeting the Queen on the first day of their state visit to the UK, reported the BBC.
The pair are at Buckingham Palace for a private lunch and welcome ceremony.
Mr and Mrs Trump arrived on Air Force One earlier on Monday and were taken to the US ambassador's home in central London, where they are staying.
Minutes before touching down, Mr Trump criticised Mayor of London Sadiq Khan, with whom he has clashed in the past.
He tweeted that Mr Khan – who had earlier said the UK should "not roll out the red carpet" for Mr Trump – was a "stone cold loser", but the president added he was looking forward to his visit.
Protests are planned in several UK cities during the three-day visit, including London, Manchester, Belfast, and Birmingham.
Talks between Mr Trump and outgoing Prime Minister Theresa May will begin on Tuesday, with the pair expected to discuss climate change and Chinese technology firm Huawei.
Crowds were gathered outside Buckingham Palace as the president and first lady landed by helicopter shortly after midday.
After a private lunch, the couple will be given a tour of Westminster Abbey and will also join Prince Charles and the Duchess of Cornwall for tea at Clarence House.
The Duchess of Sussex will not attend following the birth of her son Archie, who is less than a month old. On Sunday, Mr Trump denied calling the duchess "nasty", despite him using the word on tape.
As he stepped onto UK soil, Mr Trump was greeted by US Ambassador to the UK Woody Johnson and Foreign Secretary Jeremy Hunt.
Tory leadership candidate Mr Hunt, who has spoken about the importance of the UK's relationship with the US, said Mr Trump mentioned to him "some of his very strong views about the Mayor of London" which he had also tweeted.
Share it
Exclusive: Beyond the Covid-19 world's coverage