Japanese firm to build cashew processing plant in Cambodia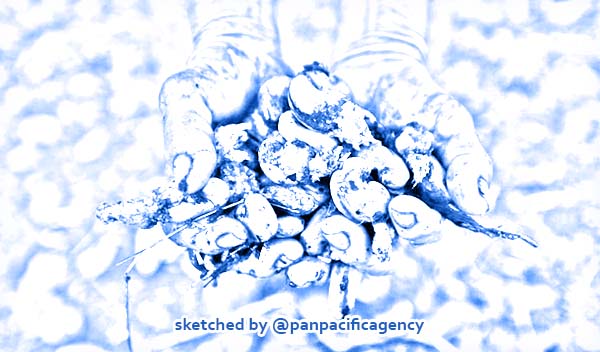 PHNOM PENH, Oct 28, 2019, The Khmer Times. Top Planning Japan Co., Ltd last week announced its intention to build a plant in Cambodia to process cashew nuts. The firm recently concluded a study on the investment that was carried out with the help of the Japanese International Cooperation Agency (JICA), according to Murayama Tsetuo, a Top Planning Japan senior official, reported The Khmer Times.
On Thursday, Mr Murayama held a meeting with the Cambodian Minister of Agriculture in Phnom Penh to discuss the investment.
Mr Murayama told Minister Veng Sakhon that his company study found that Cambodian cashews tasted better than those in Vietnam, India and African countries.
"However, we also found that when it comes to quality, hygiene, potential output, and modernisation in the industry, Cambodia is lacking," he noted.
"But there is a lot of potential so we want to establish a processing facility here in Cambodia that adheres to international standards," he told the minister.
Mr Murayama said the plant will help lift quality standards in the sector, helping it reach international levels.
He stressed that the support of the Cambodian government is needed for the investment plans to materialise.
Mr Sakhon welcomed the plans and said the ministry is open to support and facilitate the investment.
"The government is working hard to improve the agriculture sector in terms of quality and packaging standards and to modernise the industry.
"More investment in the processing of agricultural goods will raise the value of our products and curb exports of raw materials," the minister said.
According to its Industrial Development Policy, the government aims for processed agricultural products to represent 12 percent of the country's exports by 2025.
Oum Uon, president of the Sambo Prei Kuk Cashew Nut Association in Kampong Thom province, welcomed the news and asked the Japanese firm to consider Kampong Thom for the investment.
"Kampong Thom has great potential for growing cashews. In our province, cashew trees occupy about 60,000 hectares of land," he told Khmer Times on Friday.
He said Cambodia lacks processing facilities, which means most cashew nuts end up in the hands of traders who sell them to Vietnam.
"Traders buy raw cashew nuts to sell them to Vietnamese buyers," he said.
Vietnam has invested in about 500,000 hectares of cashew plantations in the Kingdom.
In 2018, the Ministry of Agriculture signed a memorandum of understanding with the Vietnam Cashew Association to bolster Cambodia's cashew production to one million tonnes per year.
Under the agreement, the Vietnam Cashew Association agreed to share with local farmers advancements in technology related to planting and harvesting, as well as boost investment in local plantations, contract farming, and research.
According to the latest figures from the Ministry of Agriculture, from January to September, Cambodia exported 169,458 tonnes of cashew nuts. The product was shipped to 11 countries – Vietnam, Russia, South Korea, China, Myanmar, Peru, Saudi Arabia, Australia, Taiwan, India, and Singapore.
Share it
Exclusive: Beyond the Covid-19 world's coverage