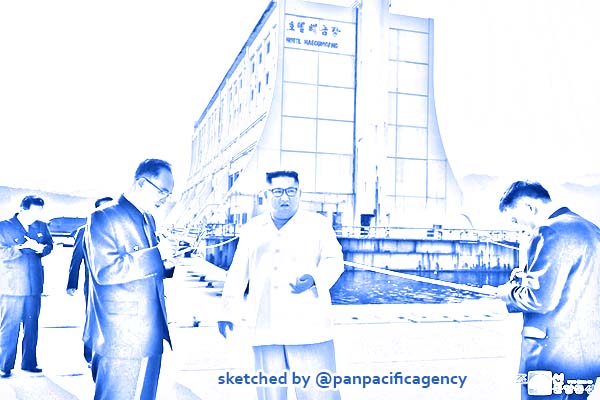 North Korea is not shy when it comes to hyperbole – its leaders are "supreme", its missiles are "massive" and its mountains are the most intelligent, having the incredible ability to recognise and respond to significant events, such as when "Glow was seen atop Jong Il Peak for half an hour […] when the nation was shocked by the news of the leader's demise", in 2011, according to the state-owned Korean Central News Agency (KCNA). Mercedes Hutton specially for the South China Morning Post.
Overstatement also accompanies recent reports about Mount Kumgang, a North Korean tourist destination that once symbolised rapprochement between North and South Korea but will now be unilaterally developed into "a cultural resort envied by the world".
On a recent visit to the area, Premier Kim Tok-hun "called for pushing ahead with the development project of turning the Mount Kumgang area into a modern and all-inclusive international tourist and cultural area […] thoroughly maintaining the principle of conveniences and architectural beauty first in the construction so that people can fully enjoy the natural beauty," reported the Rodong Sinmun, the official newspaper of the Central Committee of the Workers' Party of Korea, on December 20.
In an apparent dig at the existing resort, which was largely constructed by South Korean company Hyundai Asan, Kim "stressed the need to build the tourist area in our own way in which national character and modernity are combined". Last year, North Korean leader Kim Jong-un described the facilities as "a hotchpotch with no national character" and likened them to "makeshift tents in a disaster-stricken area or isolation wards" before ordering that they be destroyed.
Just 50km from the demilitarised zone that cleaves the Korean peninsula in two, Kumgang started welcoming tourists from the South in 1998. Over the decade that followed, more than a million South Koreans flowed into the resort, which was operated by Hyundai Asan but staffed by North Koreans. In 2008, though, the fatal shooting of a tourist who had wandered off course led to the suspension of tourism involving visitors from the South.
Before the Covid-19 pandemic – which has, we're told, spared North Korea from its grip – Kumgang received mostly Chinese tourists. With the planned construction of what the Rodong Sinmun calls "a world-level hotel, golf course, skiing ground, etc", the resort seems to harbour international ambitions – presumably not just that it be "envied by the world" but also attract tourists from all over it.
However, news agency the Associated Press reports that "North Korea's poor transport links make it difficult to bring a large number of tourists there". In a post on the open internet platform Medium, biologist and conservationist John MacKinnon, who visited Mount Kumgang "on a mission to assist the DPRK in applying for World Heritage status" in October 2019, wrote about his "long and bumpy ride of five hours" on roads that "have not been repaired in decades" from Pyongyang to reach the area.
Furthermore, there are those who believe that discussion of development at Kumgang is less about tourism potential and more about posturing. "Kim Jong-un's orders to demolish the South Korean facilities at Mount Kumgang may also be interpreted as a tactic to apply pressure on South Korea to permit tourism on Mount Kumgang," reported Seoul-based online newspaper Daily NK last year. According to the AP, "experts doubt whether it could redevelop and turn the area into a major tourism site without cooperation from South Korea".
In the absence of support from the South, redevelopment seems to be progressing at Kumgang. In June, a local source told the Daily NK that work had begun on hotels and cultural, entertainment and sporting facilities. "There were slogans posted all around promoting the idea that Mount Kumgang needs to become a [world] famous mountain – just like Samjiyon had become a city filled with world-class buildings," the source said.
For those who might have missed it, Samjiyon was Kim Jong-un's signature construction project, a "socialist utopia" situated near the sacred Mount Paektu, the alleged birthplace of Kim Il-sung, on the country's border with China. Despite delays and reports of Samjiyon being built by child labourers, state media decreed it an "epitome of modern civilisation".
When the transformation of Mount Kumgang is complete, it's certain to be "a cultural resort envied by the world", even if it isn't.
Share it
Exclusive: Beyond the Covid-19 world's coverage