Death toll of Sunda Strait tsunami in Indonesia increases to 222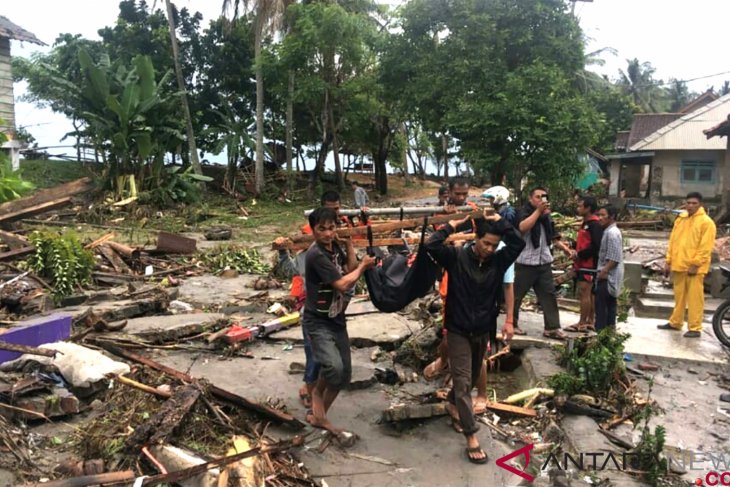 JAKARTA, Dec 23, 2018, ANTARA News. The National Disaster Mitigation Agency (BNPB) said the death toll of the Sunda Strait tsunami has increased to 222 people as of 04.00 p.m. on Sunday, reported the ANTARA News.
The agency`s spokesman Sutopo Purwo Nugroho made the remarks, adding that 843 had been injured, and 28 others went missing, while 556 houses, nine hotels, 350 ships and 60 culinary stalls were damaged.
"The number of victims and damages might increase as data collection has yet to cover all affected regions," Sutopo said.
He said, the worst-hit areas in the beaches of Tanjung Lesung, Sumur, Lada Bay, Panimbang and Carita are known as housing and tourist destination areas.
"We are preparing an air survey and mapping with the help of the Indonesian military. NPB will also deploy a helicopter," he added.
Previously, the Center of Vulcanology and Geological Disaster Mitigation ((PVMBG) said it has recorded continuous tremors with overscale amplitudo of 58 milimeters and an eruption of Mount Anak Krakatau at 09.03 p.m. on Saturday.
But it has yet to confirm the cause of the tsunami in Sunda Strait.
On December 22 Mt Anak Krakatau erupted and spewed a 300-1,500-meter high of smoke.
However, the PVMBG recorded that the tremors did not spark any high waves nor tsunami in the strait.
It would need a massive mountain crumbling and a huge energy to ignite a tsunami, and the seismograph in the volcano monitoring post did not detect such movement. Therefore, it would need further study on the connection between the volcano`s activity and the tsunami, he said.
Reporting by Virna P Setyorini, Sri Haryati
Share it
Exclusive: Beyond the Covid-19 world's coverage