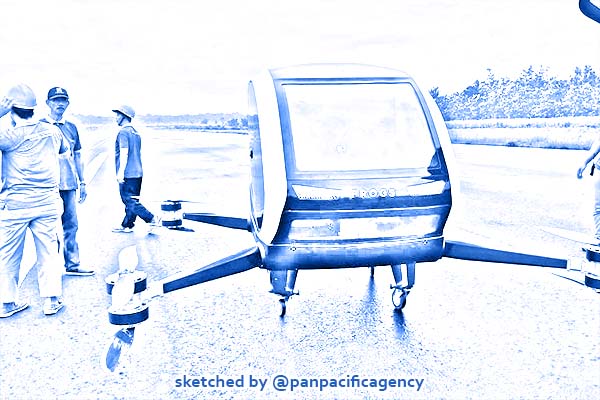 YOGYAKARTA, Mar 10, 2020, The Jakarta Post. Yogyakarta-based start-up Frogs Indonesia carried out test flights of its second generation of airborne electric taxis called the Frogs 282 at Gading Airport in Gunungkidul regency on Saturday, The Jakarta Post reported.
The electric taxi floated a few centimeters above the ground during a series of trials on Saturday, after which some technicians landed the prototype to examine it.
Frogs Indonesia cofounder Asro Nasiri said the all-electric two-seater aircraft — designed to solve the traffic problems and reduce air pollution in the country's urban areas — could lift up to 200 kilograms.
"Frogs 282 means two passengers, eight motors and second generation," Asro said, as quoted by kompas.com on Saturday.
The company's chief technology official Dedi Satria Maulana said the test was done to detect any trouble in the airborne taxi and the trial results suggested improvements be done to the machine to cope with "a rather heavy air density" in Yogyakarta.
Developed over the past two years, the Frogs was built from a light, but with strong carbon fiber known for its high margin of safety. The prototype also boasted other safety features, such as a failsafe mechanism that allowed the motors to take over for each other should one fail midair.
Saturday's test was undertaken to prepare for the prototype to be showcased at the upcoming 2020 Hannover Messe technology exhibition in Germany.
The exhibition was initially scheduled to take place in April. However, it had been postponed until July because of the global COVID-19 coronavirus outbreak.
Share it
Exclusive: Beyond the Covid-19 world's coverage