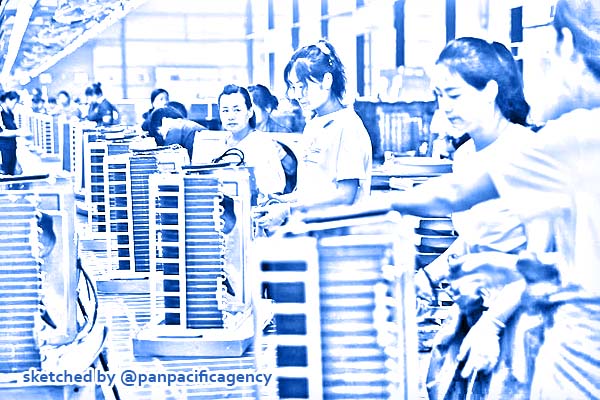 BEIJING, Aug 16, 2022, ST. China's economic growth was unexpectedly weak in July, prompting the central bank to cut a key interest rate to spur business activity, while unemployment among young job seekers continued to climb to a record high, The Straits Times reported.
Retail sales in the world's second-largest economy was particularly subdued as the country's economic outlook remained cloudy, weighed down by the uncertainty of the Covid-19 pandemic.
Latest data on Monday (Aug 15) showed that industrial production, which measures activity in the manufacturing, mining and utilities sectors, grew 3.8 per cent last month from a year ago – and below the expectations of economists.
A Bloomberg survey predicted a 4.3 per cent increase, while analysts polled by Reuters expected a 4.6 per cent rise. The latest figure was also lower than June's 3.9 per cent rise, from a year ago.
Similarly, retail sales also disappointed economists – recording a 2.7 per cent rise in July, from a year ago, almost half of the 5 per cent growth that polls by both Bloomberg and Reuters predicted. Footfall last month was slower than the 3.1 per cent rise in June.
The growth in fixed assets investment, which the central government has relied on heavily this year to boost growth, has faltered as well.
For the first seven months this year, the gauge for expenses on infrastructure, property, machinery and equipment grew 5.7 per cent from a year ago.
It shrank from the 6.1 per cent rise recorded in the first six months this year, and marked a surprise decrease from the 6.3 per cent economists polled by Bloomberg expected. Those surveyed by Reuters also predicted a rise, but of 6.2 per cent.
Mr Fu Linghui, National Bureau of Statistics spokesman, told reporters on Monday that China's economy sustained its recovery momentum last month, even as the country faced "increasingly complicated and challenging international environment as well as frequent and sporadic Covid-19 outbreaks".
China is the world's last major economy to stick to a zero-Covid-19 approach, and fresh cases had emerged in July in provinces and cities such as Anhui and Wuxi in eastern China and Xi'an in the north, resulting in lockdowns.
Globally, the economy has been struggling to recover, and central banks worldwide have been hiking up borrowing costs to fight inflation.
Mr Fu said production and supply in China continued to recover in July while employment was generally stable, adding that trade, which grew 16.6 per cent last month, from a year ago, "maintained the good momentum of growth".
The job market last month remained dour for young job seekers, as the unemployment rate for those aged between 16 and 24 rose to a record 19.9 per cent, up from the 19.3 per cent in June. The urban surveyed unemployment rate was 5.4 per cent in July, 0.1 percentage point lower than in June.
The disappointing economic data had prodded the central bank to make an unexpected cut to a key policy interest rate on Monday.
The People's Bank of China (PBOC) said it will slash the rate of one-year medium-term lending facilities by 10 basis points to 2.75 per cent from 2.85 per cent – a move expected to encourage lending and spur business activity.
Dr Larry Hu, chief China economist at Macquarie Group in Hong Kong, said "the stimulus rolled out (so far) has been proved weaker than expected, prompting policymakers to step up policy easing".
Analysts said the government needs to consider more aggressive approaches to rev up the economy, and urged policymakers to rethink the country's strict Covid-19 approach, which they blamed for the poor economic results.
"Domestic demand softened due to Covid-19 outbreaks in many cities and the worsening sentiment in the property market," said Dr Zhang Zhiwei, chief economist at Pinpoint Asset Management in Hong Kong, referring to China's regulatory clampdown on its over-leveraged and formerly high-flying developers that started two years ago.
The property sector worsened in July, with investment tumbling 12.3 per cent, from a year ago – the steepest decline this year – according to Reuters' calculations. The drop in new sales also deepened to 28.9 per cent.
"The PBOC rate cut today is one step in the right direction, but monetary policy by itself may not be enough to deal with the problem. The property sector policy and the zero-Covid policy also need to be considered," said Dr Zhang.
Top policymakers said at the latest quarterly economic analysis conference in late July that China will seek to balance growth with its pandemic controls, vowing to achieve the "best economic outcome for the year".
They did not reference the growth goal of "around 5.5 per cent" announced during the annual parliamentary meetings in March, which analysts took as a sign that the government is easing up on trying to hit the target.
China's economy grew 2.5 per cent in the first six months this year.
Economists have dismissed hope that China can hit the government's target of around 5.5 per cent growth in gross domestic product this year, with some moderating their expectations to a growth of no more than 4 per cent.
Share it
Exclusive: Beyond the Covid-19 world's coverage