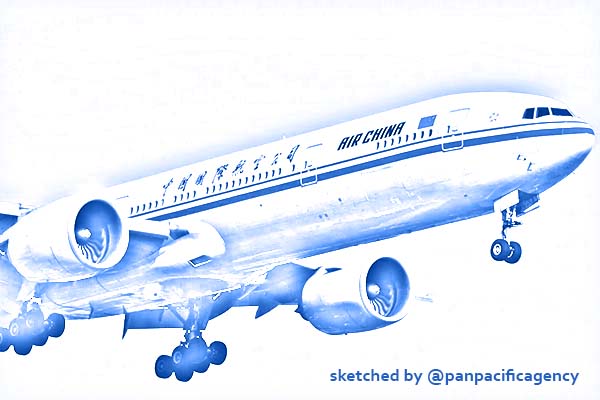 BEIJING, Jul 17, 2019, SCMP. National flag carrier Air China has come under fire after an employee made a scene during a flight and accused three business class passengers of attacking her, leading to them being held and questioned for seven hours last Friday after their arrival in Beijing, reported the South China Morning Post.
Playwright Li Yaling, who was travelling business class on flight CA4107 from Chengdu uploaded a video and lengthy post detailing the incident to her nearly 1.3 million followers on Weibo, China's Twitter-like microblogging platform.
Li's video showed a female passenger, who claimed to be an Air China supervisor, scolding passengers for using their phones while the plane was on the runway at Chengdu, capital of Sichuan province, southwest China.
The scolding lasted half an hour, according to Li, even after the passengers stopped using their phones and explained they had been switched to flight mode. Air China permits smartphones in flight mode to be used during its flights.
The woman paced about the cabin as the plane taxied down the runway and continued to make a scene until the flight approached Beijing. She was seen making a call, asking for the police to be notified that the passengers had "attacked" her and "endangered aviation safety" and to come and take them away.
The passengers were stopped by the crew and removed by the police, who took them to the airport police station where they were held for seven hours before being released with a warning, according to Li's post.
"I want to ask Air China what the position of the Air China supervisor is," Li wrote on Weibo. "Is she independent or your employee? What legal rights does she have? Has she abused her power, if any?"
Li's post shocked internet users who reacted with sympathy. Some posted video clips or their own accounts of the same woman making similar false accusations on buses, subway trains and other flights, leading to similar problems for individual passengers, as well as travel delays.
Li later said on Weibo she was contacted by the airline on Saturday afternoon and told the woman was a former flight attendant who had been on sick leave since pouring hot water on a passenger more than 10 years before and had subsequently been diagnosed with bipolar disorder.
In a public statement on Monday, Air China said the dispute had involved an employee who was on leave for health reasons and had been on a private trip. The airline said three passengers and four crew members had been taken to the airport police station to help with an investigation into the incident.
Li followed up her Weibo posting on Monday, meeting several senior officials at Air China's headquarters, where she was told the situation was a dispute between passengers and the airline had fulfilled its responsibilities.
Li said she felt sympathy for mental health patients but not for the woman, who she said had apparently endangered public safety on flights several times. Li also demanded compensation for paying a high price to travel in business class, only to suffer two hours of verbal abuse.
The situation angered many on social media, who felt the airline had not taken enough responsibility for the incident. Some said they would not choose Air China again.
"The incident is not about passengers switching off their phones, it is about how your airline's employee caused a row in business class," one Weibo user wrote.
"This is a serious threat to flight order and safety, yet Air China can't handle it. I will not consider flying with Air China again. Safety comes first after all," said another.
Online news portal Ifeng.com ran a survey on the incident, with nearly 88 per cent of the 160,000 who took part agreeing that the airline should take responsibility for the incident. A total of 84 per cent said Air China had mishandled the incident and some 58 per cent said they would consider other carriers ahead of Air China in future.
Influential party newspaper People's Daily also weighed in, criticising the airline for evading the crucial point in its public statement posted to Weibo on Monday night.
"The public does not question the significance of caring for patients with special diseases, but showing humane care does not mean inaction and to maintain the company image does not [mean] blindly protecting its employee," the newspaper said. "After all, the travel rights of all passengers and public safety are more important."
Share it
Exclusive: Beyond the Covid-19 world's coverage