Hong Kong police deploy tear gas, reclaim legislature from anti-gov't protesters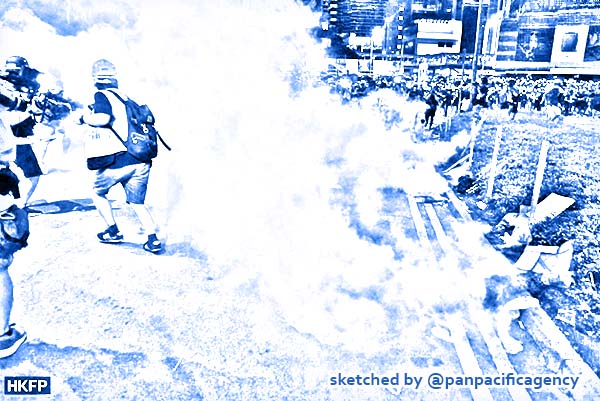 HONG KONG, Jul 2, 2019, HKFP. The move comes as protesters cleared out of the city's legislature after storming the building on Monday evening. At around midnight, rows of police officers wearing riot gear and holding batons closed in on masked protesters on Lung Wo Road before advancing towards Harcourt Road creating a cordon. Tear gas warning signs were raised before canisters were deployed as demonstrators dispersed towards Central, reported the Hong Kong Free Press.
The protest followed an overnight anti-government occupation of the space around the legislature, which coincided with a largely peaceful annual July 1 pro-democracy march from Victoria Park.
Organisers said 550,000 people attended, though police put the figure at 190,000.
Crowds stormed the Legislative Council Complex on Monday evening after breaking glass doors and prying open metal shutters, vandalising its interior and spray-painting graffiti on the walls.
The unrest follows weeks of protests sparked by a controversial extradition bill, which would allow the chief executive and local courts to approve fugitive transfer requests without legislative oversight to jurisdictions where there are no such agreements – most notably, China. The bill was suspended on June 15, but not axed.
The demonstrations have since morphed into a wider public display of discontent over alleged police brutality against protesters, among calls for democracy and for Chief Executive Carrie Lam to resign.
Share it
Exclusive: Beyond the Covid-19 world's coverage