Taiwan broadens travel ban on Hong Kong and Macau as global deaths reach 910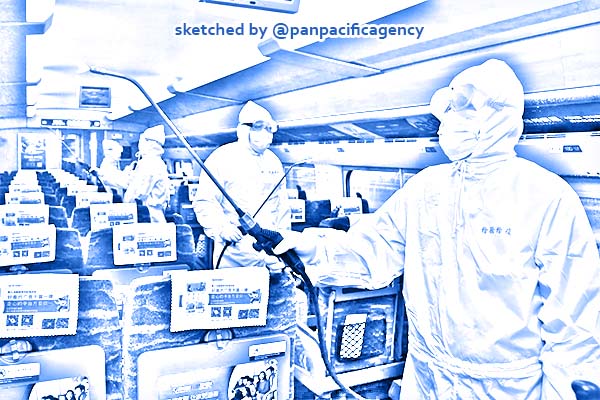 BEIJING, Feb 10, 2020, SCMP. The death toll of the coronavirus officially surpassed that of Sars, after China's health authorities reported a further 97 deaths over the course of Sunday, the deadliest day so far. The latest daily increase took the total number of confirmed deaths caused by the "novel coronavirus pneumonia" – officially named by China's National Health Commission (NHC) on Saturday – to 910. All but two of those had occurred in mainland China, South China Morning Post reported.
The commission on Monday morning reported 3,062 new cases of infection as of Sunday at midnight, taking the total to date to 40,171. Of those in hospital, almost 6,500 are severe cases, according to the data.
Sars – or severe acute respiratory syndrome – killed 813 people as it swept through China and other parts of Asia in 2002-03, according to World Health Organisation (WHO) figures. Sars had a much higher fatality rate (around 10 per cent) than that of the new coronavirus, which has killed around 2 per cent of all those infected.
Further restrictions on people travelling from Hong Kong and Macau to Taiwan will be introduced on Tuesday because of the escalating outbreak, the island's Mainland Affairs Council said on Monday.
"Except for those who must come to Taiwan to honour their business contracts, transnational personnel transfers and spouses and minors of Taiwanese who have obtained residential status in Taiwan, all others from Hong Kong and Macau will be temporarily stopped from travelling to Taiwan," said Chen Ming-chi, vice-chairman of the council, which oversees the self-governed island's policies towards mainland China.
Taiwan had on Thursday imposed limits on new visas to visit for citizens of Hong Kong and Macau. Those still allowed in from Tuesday would need to enter home or hotel quarantine for 14 days, Chen said, adding that students from the two cities would be included in the ban until further notice. He said the measure was necessary to ensure the health of the Taiwanese people.
There are 10,840 students from Hong Kong and Macau studying in Taiwan, of whom about 7,900 have left the island for the Lunar New Year holidays, according to the education ministry.
Health authorities in the province of Hubei, where the disease first broke out in December, on Monday reported 2,618 cases overnight, as its total number of infections rose to almost 30,000.
Of the 97 deaths reported nationwide on Sunday, 91 were in Hubei. Almost 1,800 of the province's patients have recovered and been released from hospital.
Hubei's provincial capital of Wuhan, the contagion's epicentre, began twice-daily disinfections on Sunday. Disinfections of areas including those around hospitals, quarantine locations and community facilities would be carried out at 10am and 4pm, the nationalist tabloid Global Times tweeted on Monday.
Amid a steady rise of cases overseas, numerous governments, including those of Japan, the United States and Singapore, have implemented restrictions barring entry to those with recent travel history to China. Countries have also evacuated their citizens from Wuhan, one of the many cities in China to have been put under lockdown.
WHO director general Tedros Adhanom Ghebreyesus said on Twitter on Sunday that a WHO team of international experts had left for China to help investigate the outbreak.
"I've just been at the airport seeing off members of an advance team for the @WHO-led #2019nCoV international expert mission to #China, led by Dr Bruce Aylward, veteran of past public health emergencies," he said in a tweet from Geneva.
Tedros met Chinese President Xi Jinping in Beijing in late January, and the two sides agreed an international mission would be sent.
Aylward, a Canadian epidemiologist and emergencies expert, has previously led the WHO's response to the Ebola outbreak in West Africa, as well as initiatives on immunisation, communicable diseases control and polio eradication.
Tedros has warned that confirmed cases of coronavirus being transmitted by people who have never travelled to China could be the "tip of the iceberg".
"There have been some concerning instances of onward #2019nCoV spread from people with no travel history to [China]," he tweeted on Sunday, using the virus' scientific name.
"The detection of a small number of cases may indicate more widespread transmission in other countries; in short, we may only be seeing the tip of the iceberg."
Although the virus' spread outside China appeared to be slow, Tedros warned that it could accelerate.
"Containment remains our objective, but all countries must use the window of opportunity created by the containment strategy to prepare for the virus' possible arrival," he said.
As people in Beijing returned to work after an extended Lunar New Year holiday, state media reported about a 50 per cent drop in subway passengers compared with a normal working day.
Commuters arriving without wearing a face mask would be advised to leave the station, China Global Television Network – the international division of state broadcaster CCTV – said on Twitter on Monday.
State newspaper Beijing Daily and Chinese search engine Sogou have jointly launched a self-test app that uses artificial intelligence to help people determine their risk of coronavirus infection.
The tool was developed based on a questionnaire published by the NHC. Users answer questions about factors such as fever and history of exposure to the virus.
Researchers in the southern province of Guangzhou who isolated strains of the coronavirus from patients infected locally found it had not mutated from samples from Hubei, where the outbreak started, indicating that efforts to contain the spread of the infection were having an effect, China's leading epidemiologist Zhong Nanshan said, according to a report on Monday in the Guangdong-based Nanfang Daily.
"So far the virus has not mutated in Guangdong, and this makes us more confident in our quarantine work," Zhong said, adding that the key indicator to assess the epidemic was the growth of new cases.
The mortality rate of the coronavirus is about 2.7 per cent, which is higher than influenza but lower than Sars, Ebola or H7N9 avian flu, the paper reported, citing an interview with Zhong on Sunday. The new coronavirus is "highly contagious but less fatal than other coronaviruses", he said, according to the report.
Zhong is leading a panel of medical experts advising the government on how to tackle the outbreak.
Guangdong stepped up its containment measures from Monday, requiring people buying fever and cough medicine in the province's pharmacies to register their name and have their temperature taken, according to state media.
Those buying medicine who are found to have a fever or who have arrived from virus hot-spots such as Hubei within 14 days must report to the authorities, while pharmacies not following the rules will have their business licence suspended, the report stated.
Share it
Exclusive: Beyond the Covid-19 world's coverage