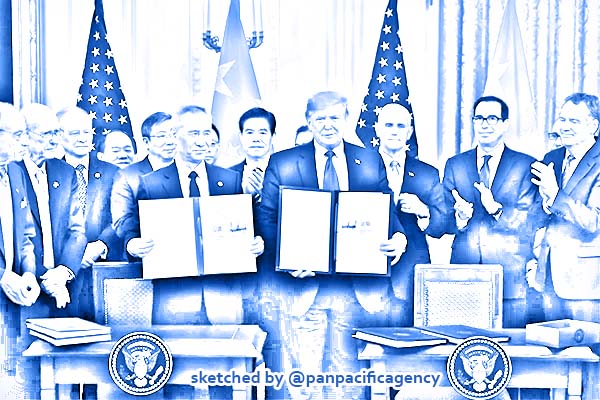 WASHINGTON D.C., Jan 16, 2020, SCMP. The United States and China signed a partial trade agreement on Wednesday aimed at putting the brakes on an 18-month trade war between the world's two largest economies. With provisions covering purchase commitments, financial market access, intellectual property protection and enforcement, the "phase one" deal was made final by US President Donald Trump and China's chief trade negotiator, Vice-Premier Liu He, South China Morning Post reported.
The incremental deal is designed to be the first in a series of agreements intended to end a trade conflict that has seen tariffs slapped on hundreds of billions of dollars worth of trade – rupturing supply chains, shaking markets, increasing consumer costs and contributing to a global growth slowdown.
"Today we take a momentous step, one that has never been taken before with China," Trump said before inking the agreement with Liu in the White House's East Room. The room was packed with business executives invited by the administration, as well as reporters, US lawmakers, Trump cabinet officials and members of the Chinese delegation.
Trump said he would be travelling to Beijing in the near future "to reciprocate" and meet with China's president, Xi Jinping.
After speaking briefly on the significance of the trade deal, Trump abandoned his teleprompter for a half-hour diversion, thanking various US officials, lawmakers and business leaders in the room, and airing well-worn grievances, including over his impending impeachment trial in the Senate.
The signing, which occurred over an hour into the proceedings, represented the first time since the trade dispute began in July 2018 that both sides have formalised any commitments. The two countries were close to an agreement in May 2019, but talks collapsed at the last minute amid Washington's accusations that Beijing had sought to backtrack on multiple major terms.
After months of renegotiation and further escalating tariffs, the US government announced in December that it had reached consensus with Beijing on the details of a new pact, though Trump administration officials were still waiting to see a Chinese translation of the 86-page document as late as Friday, according to White House trade adviser Peter Navarro.
Included in the deal is a commitment from Beijing to buy around US$200 billion of American goods and services over two years.
China had promised to remove barriers to a long list of US exports, including beef, pork, poultry, seafood, dairy, rice, infant formula, animal feed and biotechnology, Trump said.
China is also understood to have committed to speed up its approval process for new agricultural biotech crops to an average of 24 months, from about five to seven years currently.
The deal will result in a suspension of a planned December tariff on about US$162 billion in Chinese goods and the halving of an existing 15 per cent duty on imports worth around US$110 billion.
China will not be lifting any of the retaliatory tariffs it has imposed on US$110 billion worth of American goods as part of the deal, US trade representative Robert Lighthizer said at a press briefing on Wednesday morning.
Beijing had pledged to roll out new rules and regulations preventing Chinese companies from forcing US businesses to share intellectual property in exchange for market access, US Treasury Secretary Steven Mnuchin said on Wednesday morning ahead of the signing ceremony.
In return for Beijing's commitments, US negotiators agreed to reduce existing tariffs on some Chinese imports and cancel duties that were scheduled to take effect in December. Tariffs on some US$360 billion of goods entering the US will stay in place.
Pointing to a further concession by the US, the Treasury department announced on Monday that it no longer considered China a currency manipulator, a designation it had made in August amid unsuccessful talks in Shanghai and an escalation in tariffs.
Monday's move made for a considerably warmer welcome for Liu compared with his last visit to Washington. In October, just days before the vice-premier's arrival for talks with his American counterparts in the US capital, the Trump administration rolled out a suite of sanctions targeting the Chinese government over alleged human rights abuses against Muslim ethnic minority groups in Xinjiang.
"At times, there were setbacks in our trade talks," Liu said of the countries' discussions over the past two years.
But "relentless" efforts from both sides had led to the successful forging of the agreement, which China vowed to "strictly honour" alongside the US, he said.
As he had done at several previous meetings with Trump, Liu read aloud a letter to the US leader from Xi. Though largely laudatory in tone, the message appealed to the US government to treat Chinese companies "fairly" and support the "collaboration between enterprises, research institutes and [the] schools and colleges of the two countries".
Trump said that keeping the two "giant and powerful nations together in harmony" was important for the world, and said the deal would herald "an even greater world peace".
The US leader's hyperbole notwithstanding, Beijing has framed the contract's significance in more muted terms.
Breaking two months of silence, Taoran Notes, a social media account affiliated with the Chinese government, said in a post on Monday that the trade war was "not over yet", and that Wednesday's signing represented "just the first round of a game".
Trade experts, for their part, have expressed doubt that the incremental agreement will necessarily pave the way for a consensus on the thornier structural issues that remain, such as China's subsidies for state-owned enterprises.
"The phase-one deal is a step in the right direction, but it will do little to shake the widespread perception that trade uncertainty is the new norm," said Jon Cowley, senior international trade lawyer at Baker McKenzie in Hong Kong.
In a letter to Trump slamming the deal as "completely inadequate", the Alliance for American Manufacturing, an industry association, said on Monday that "nearly all the major structural issues [had been] left unresolved", among them industrial subsidies and overcapacity.
Euan Rellie, founder of BDA Partners, a New York-based, Asia-focused investment bank, disparaged the president's performance in the signing ceremony and the scarcity of breakthroughs in the pact as an example of Trump's penchant for "showmanship over substance".
"His base is just lapping it up," he said. "The reality is US farmers aren't better off after the phase one compared to the beginning of the trade war."
However, Rellie said he felt relieved at the de-escalation in US-China tension. "At least what we have now is Trump is unlikely to impose more tariffs," he said. "I won't call it a win. I will call it an uneasy temporary peace. It's better than nothing."
Jeremie Waterman, the US Chamber of Commerce's vice-president for Greater China, said the deal "puts a floor under a relationship that, quite frankly, has been struggling".
The agreement will be connected to a strict enforcement mechanism under which any complaints will be adjudicated unilaterally within 90 days, administration officials have said. Complaints will be aired first at the working level and – should those discussions fail – will then be escalated through the deputy level and, ultimately, to the secretary level.
The mechanism lets the US enact punitive measures if complaints remain unresolved. Beijing had promised not to retaliate in such instances, Navarro said in an interview on NPR earlier this week.
Trump said last week that negotiations on a "phase-two" deal would begin immediately, but he added that he may decide to wait until "after the [US presidential] election" to make the second agreement final.
Speaking with CNBC on Wednesday ahead of the signing ceremony, Mnuchin said that further rollbacks of US tariffs would be part of the phase-two deal, adding that the agreement may be broken up into further incremental stages.
"Phase two may be 2A, 2B, 2C," he said. "We'll see."
Additional reporting by Finbarr Bermingham, Mark Magnier and POLITICO's Doug Palmer
Share it
Exclusive: Beyond the Covid-19 world's coverage