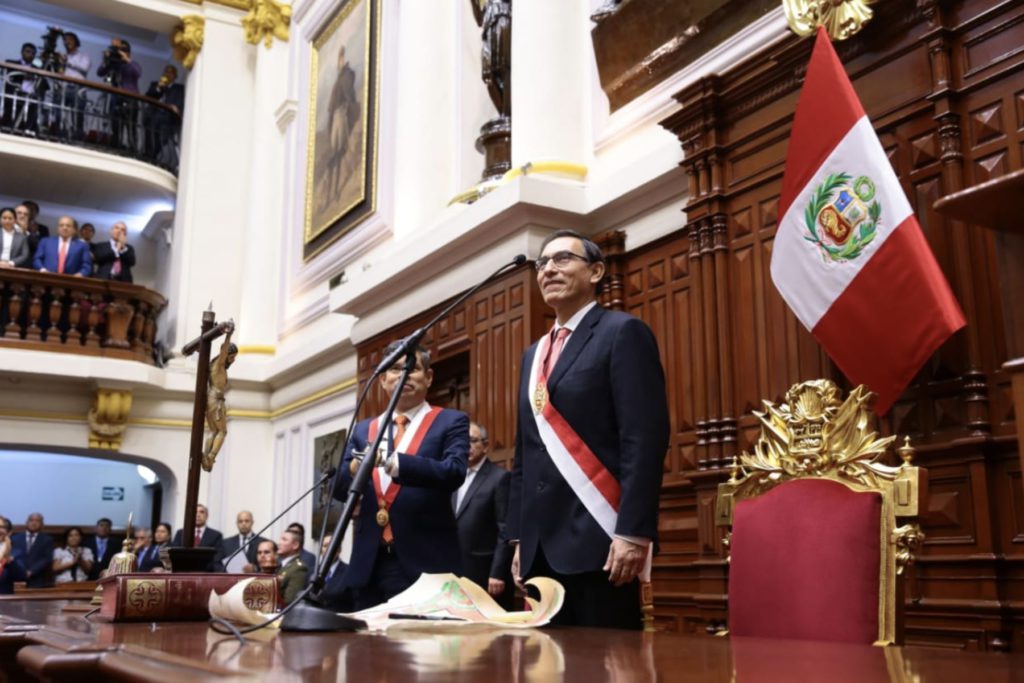 Today marks the first year since Martin Vizcarra became the President of Peru, following the resignation of Pedro Pablo Kuczynski. During that time, he pledged to fight against corruption and empower the Inca country's regions. Below are the main stories registered in the first year of the Vizcarra administration, according the ANDINA.
March 21
Pedro Pablo Kuczynski resigned as Peru's president after nearly 20 months in power in the face of a forthcoming impeachment vote and amid scandal.
March 23
Martin Alberto Vizcarra Cornejo was officially named President of the Republic of Peru for the 2018-2021 term.
The engineer — who replaced Ex-Head of State Pedro Pablo Kuczynski — had been serving as Vice-President and Ambassador to Canada based in Ottawa.
April 2
President Martin Vizcarra swore in 19 State Ministers, 10 days after having taken office as the new Head of State and Government.
April 13
The 8th Summit of the Americas started in Lima. The two-day event gathered Heads of State and Government of the Western Hemisphere, who addressed one of the most important issues facing the region: the fight against corruption and adopted the Lima Commitment (Democratic Governance against Corruption).
May 25
Peru submitted ex-President Alejandro Toledo extradition file to the U.S. Department of State.
The extradition appeal was made by the First Preparatory Investigation Court for alleged crimes of influence peddling, collusion, and money laundering.
June 1
Eyvi Agreda —a femicide victim who was set on fire inside a public transport bus in April— passed away at Lima-based Guillermo Almenara Hospital. Her death encouraged authorities to take stricter measures to combat gender violence.
June 15
The Inter-American Court of Human Rights ruled that the State should submit —not later than October 29— information on the progress made by the constitutional jurisdiction in the control of the "pardon on humanitarian grounds" granted to Fujimori.
July 7
Investigative journalism site IDL-Reporteros released audio recordings implicating former Callao Superior Court President Walter Rios, National Council of the Magistracy (CNM) members, and ex-Judge Cesar Hinostroza in corrupt practices.
July 19
Judge Duberli Rodriguez tendered his irrevocable resignation as Chairman of the Judicial Branch.
His stepping down came amid a crisis in the justice system, which led to designing a comprehensive reform of the Judiciary.
July 20
Supreme Prosecutor Pedro Chavarry was sworn in as Attorney General for the 2018-2021 term, amid a corruption scandal involving members of the country's justice administration system.
July 26
Fuerza Popular (Popular Force) legislator Daniel Salaverry was elected as the new Congress Chairman for the 2018-2019 term.
July 28
President Martin Vizcarra delivered his address to the nation from Parliament headquarters during Independence Day celebrations. In his speech, he proposed holding a referendum to submit four political-justice reforms for public consultation.
September 3
The 4th Binational Cabinet took place in the Bolivian city of Cobija under the leadership of Presidents Martin Vizcarra (Peru) and Evo Morales (Bolivia).
September 11
After 26 years, Shining Path terrorist group head Abimael Guzman and other leaders were sentenced to life in prison over the Tarata Street bombing that claimed the lives of 25 people in Peru.
October 3
Peruvian Preparatory Investigation Court accepted the plaintiffs' claim to annul the humanitarian pardon granted to former President Alberto Fujimori (1990-2000).
A judge issued search and arrest warrants against Fujimori in order to send him back to jail.
However, his son Kenji took him to Lima-based Centenario Clinic.
October 4
Congress approved that suspended judge Cesar Hinostroza be dismissed, banned from holding public office for 10 years, and accused of organized crime involvement.
October 7
Exit polls revealed that Accion Popular party's candidate, Jorge Muñoz, defeated his opponents in Lima's mayoral race to become Peruvian capital city's next mayor.
October 10
Peru's Judicial Branch placed Fuerza Popular opposition party leader Keiko Fujimori under detention for ten days. Preliminary detention was ordered for other 19 people, including former Congress Chairman Jaime Yoshiyama.
October 19
Former Supreme Judge Cesar Hinostroza was arrested in Madrid (Spain) after he left the Andean country despite a travel ban imposed on him by the Judicial Branch.
November 1
Former presidential candidate Keiko Fujimori was transferred to prison, where she would serve 36-month preventive detention over alleged money laundering charges, as ordered by a judge the previous day.
The judge considered she posed a high risk of flight, plus this measure would prevent disruptions to the probe.
November 12
King Felipe VI and Queen Letizia of Spain visited Peru. According to the Inca country's Foreign Affairs Ministry, their presence helped strengthen the solid friendship with Spain and renew deep historic-cultural, economic, and cooperation ties binding the two nations.
November 18
Former Peruvian President Alan Garcia Perez (1985-1990; 2006-2011) requested asylum to Uruguay's Government. Garcia entered the residence of the Uruguayan Ambassador —based in Lima— the previous night.
December 3
The Uruguayan Government rejected the asylum request by former President Alan Garcia.
December 9
Peruvians approved three constitutional reforms and rejected one at a referendum called by President Martin Vizcarra.
December 31
Attorney General Pedro Chavarry removed Prosecutors Rafael Vela and Jose Domingo Perez from the Lava Jato Special Prosecution Team. The decision led to demonstrations in the Inca country and overseas.
In Peru, the Attorney General is independent from the Executive Branch.
January 2
Pedro Chavarry reversed the previous decision by reinstating Lava Jato Case Prosecutors Vela and Perez in their posts.
January 8
Attorney General Pedro Chavarry stepped down from the post as he submitted his resignation letter at the Public Ministry's headquarters.
January 23
Former Peruvian President Alberto Fujimori was returned to Barbadillo prison to serve out the remainder of his 25-year sentence, as ordered by the Judicial Branch.
February 15
Peru's Lava Jato Case Special Prosecution Group signed the long-awaited collaboration agreement with Odebrecht representatives and former employees in Brazil in order to find the truth about bribes given to former Peruvian officials.
February 26
Peru and Portugal signed important agreements on air transport and work visas for young people, during President Vizcarra's State visit to the European country.
February 27
President Martin Vizcarra met with Spanish King Felipe VI at the Royal Palace of Madrid, within the framework of his State visit to the Iberian country.
Peru and Spain inked seven cooperation agreements.
March 11
President Martin Vizcarra administered the oath of office to members of a reshuffled Cabinet led by Prime Minister Salvador del Solar, who replaces Cesar Villanueva in the post.
March 22
President Vizcarra attended the Meeting of Presidents of South America in Chile.
March 23
This day marks President Martin Vizcarra's first year in office.
Share it
Exclusive: Beyond the Covid-19 world's coverage